The e-commerce industry is growing at a high rate of 23% every year and it won't slow down soon. The sales are expected to reach $2.4 billion this year.
A lot of people prefer to shop online now than ever before. Sure, you are expecting to drive some customers to your online store.
But there is a problem…
There are lots of online stores available to consumers, so getting their attention is becoming difficult.
Thankfully, you have nothing to worry about because you are going to learn how to attract customers to your online store in this article.
Below are 5 ways you can drive customers to your online store.
1. Optimize for search
Search engines are one of the major drivers of traffic to online stores. According to SEMrush, it accounts for about 37.5% of traffic to major online stores.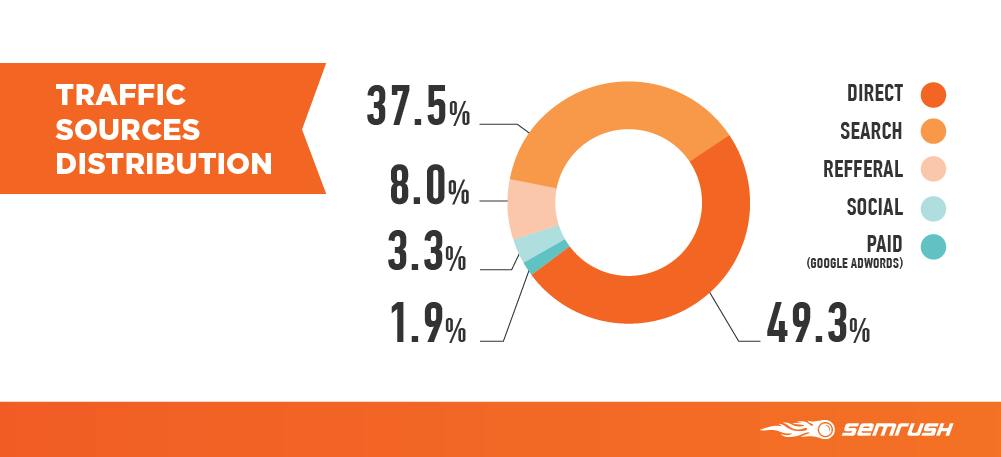 But there are many search engines on the internet so, which one is the best?
The leader in search traffic generation is Google. Below is an example of the best search engines that drives traffic to top online stores such as Amazon.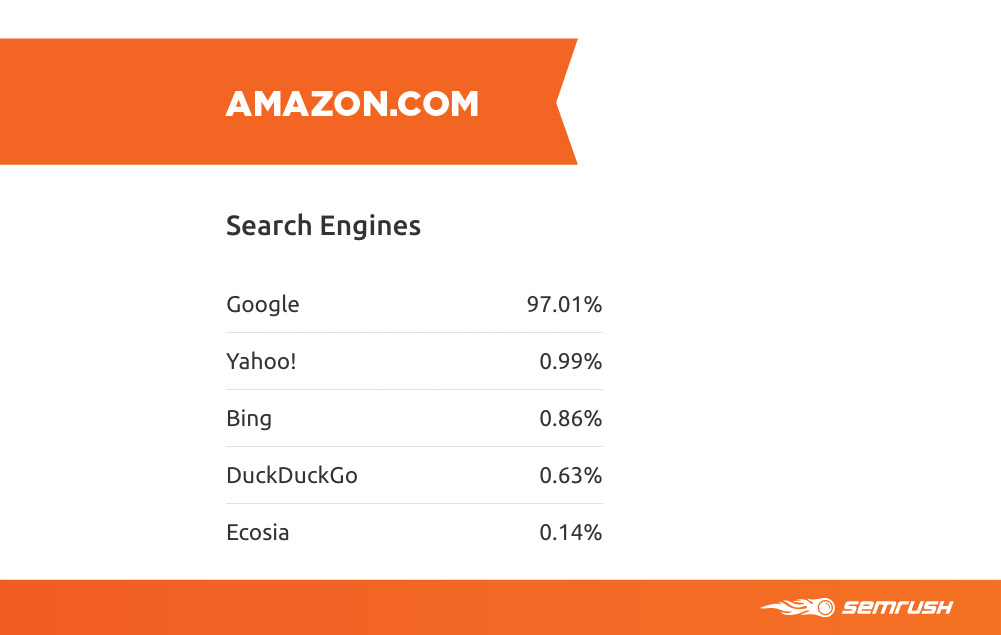 This shows that search engines are one of the major ways online stores drive customers. To benefit from the search engine traffic. This will make it rank higher in search engines. The higher you rank, the more traffic you drive because less than 5% of web traffic searchers makes it to the second page of the search result.
Therefore, you need to strive to be on the first page. To optimize your online store for search, follow the tips below:
Use product keywords to optimize your pages. The Google keyword planner is a good tool that can help you get the list of words relevant to your product.
Create a sitemap and submit to Google, Bing, and Yahoo
Use products keywords in your meta description
Make sure your e-commerce store loads fast
Organic traffic is free, and it is highly scalable. The more you work towards it, the better results you get over time.
2. Use referrals
Referral traffic is made up of people who find your website through external links placed on other people's website or who are referred by friends and colleagues.
In the research carried out by SEMrush (above), referral is the third most driver of traffic to online stores. It brings in 8.3% of the total traffic. For example, Amazon.com get most of its referral traffic from Yahoo, Primevideo, Kinja, live.com and audible as seen below: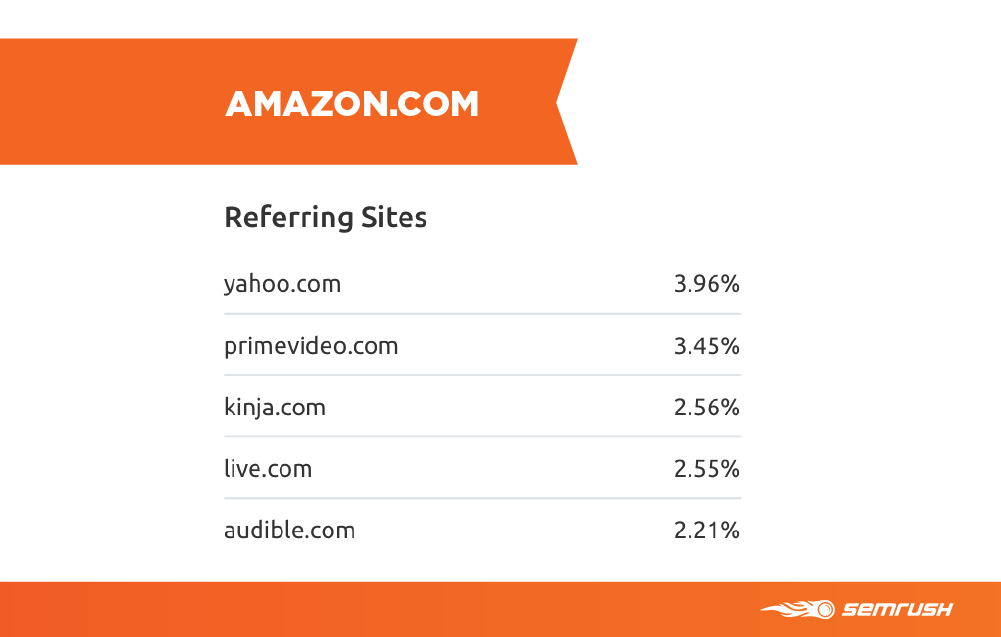 There are major ways to increase your referral traffic, it is either you to place links on quality websites or start a referral program.
A referral program is a great way to drive more customers to your online store. In fact, 81% of consumers say a recommendation from a friend or family member influences their buying decisions. All you need is to create a way for your customers to recommend your product to others.
One customer gained through a referral has a lifetime value of 25% higher than other customers.
A good example is Dropbox. They grew from 100,000 users to over 4 million users in 15 months using a referring program.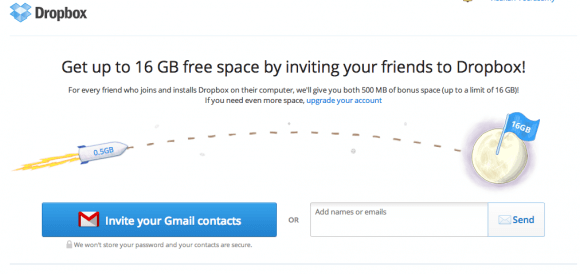 3. Optimize for mobile
A lot of e-commerce shopping now takes place on smartphones because 89% of the time people are on their phones. In fact, 60% of mobile users have bought things online from their mobile devices. This is the reason why you need to optimize your store for mobile traffic.
In optimizing your online store for mobile, make sure you make it user-friendly. Below are features consumers said are great on a mobile website.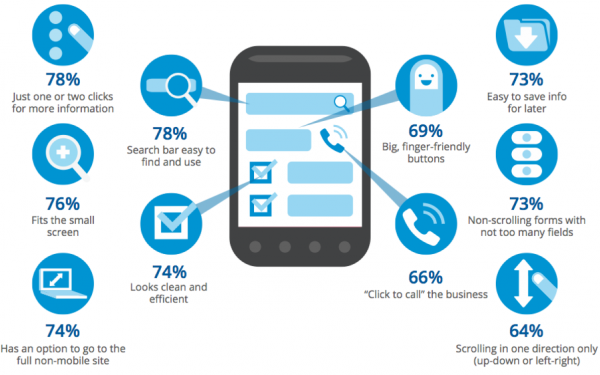 As you can see from the image, ensure that your mobile site:
Makes it easy to save information for later use
Use big fingered-friendly buttons
Display a few fields
Looks clean and efficient
Fits the mobile screen, etc.
Scrolls in one direction only i.e. from top to down and left to right
If you want to check how your website looks on mobile, use the Google mobile-friendly test.
4. Social media and Video
A lot of companies are using social media networks to drive targeted traffic to their online stores. This is why 76 percent of retailers are planning to invest more in social media marketing.
Social media is not just a place to promote your product, it is also a place to connect with your fans. Sharing quality content will help you build relationships with your fans and get them to trust you before you sell to them.
This is why creating high quality, informative and attention-grabbing content for your audience is a must. To generate a notable result from the social media ensure you choose the right platform for your business. For instance, if you are selling clothing, you will want to use Facebook, Instagram, and Pinterest. If you are into b2b sales, LinkedIn is a great place to attract customers.
Posting videos on social media is a great strategy. It does better than texts or images. Video has 135% more engagement on Facebook than images. If you sell clothing or any physical product, don't just snap the pic and paste on the platform, use video to show someone using it.
5. Use promotional emails
Email marketing is one of the best ways to drive customers to your online store. It is effective because:
94% of all online adults use email
91% of consumers check their mail daily
66% of consumers made a purchase online because of an email marketing message
It has an ROI of 4,300%
For every dollar spent, you have an ROI of $44.25.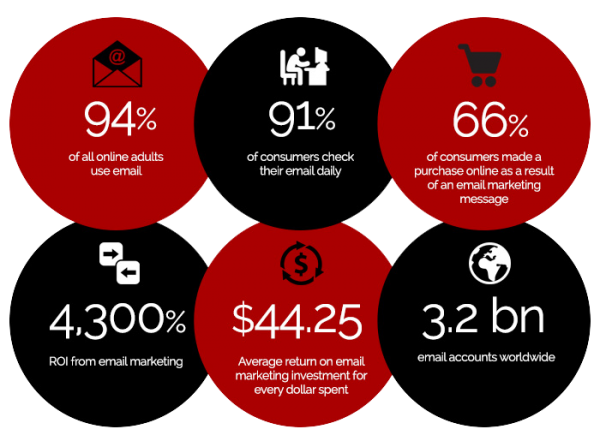 You can use email marketing to target new, existing and lost customers. Repeat customers spend 67% more than new customers. So, focus more on your email list to drive customers to your online store.
Promotional emails bring your customers back for more, especially when you have new things in stock.
Below is a good example of a promotional email from Walgreens.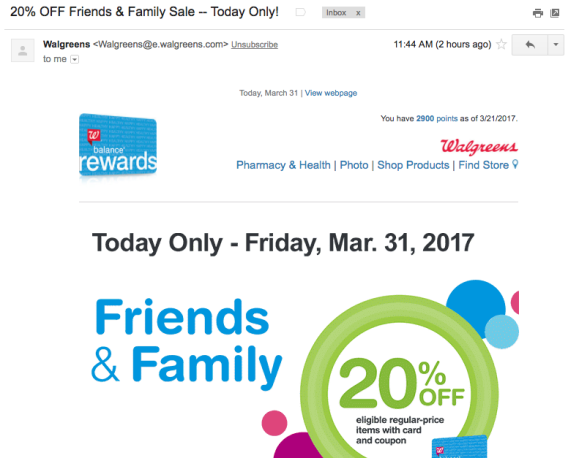 To get more from your email marketing efforts, follow the tips below:
Use mobile-friendly emails
Make your promotional emails scannable
Use video email marketing
Send personalized email messages
Be friendly.
Conclusion
Above are five practical ways you can attract customers to your online store. Have you tried any of the strategies before? Tell us in the comment section below.