The most common challenge store owners face is traffic. When you take care of the traffic, it will solve the problem of sales. You need traffic to make sales on your e-commerce store. Although there are different sources of traffic you can attract visitors, social media trumps them all.
This is why 71% of small businesses use social media. It is reported that businesses that use the social media make more sales and revenue. This is because a lot of customers are on social media. As of 2017, there were 2.46 billion social media users. The number is projected to rise to 2.62 billion this year. This is why you cannot ignore the huge market.
Social media is beneficial to your business. It helps you to connect with your prospects and customers, engage with them and build a relationship. Once you have built a relationship, it becomes easier to drive them to your store and turn them into paying customers.
The question is:
How do you drive traffic from the social media to your e-commerce platform?
Below are five hacks you can use to increase traffic to your e-commerce store.
1. Use live streaming videos
The live streaming video is fast gaining ground on social media. This is because users love video more than content. In fact, many people watch live videos. It is reported that 36% of Americans watch live videos as shown below.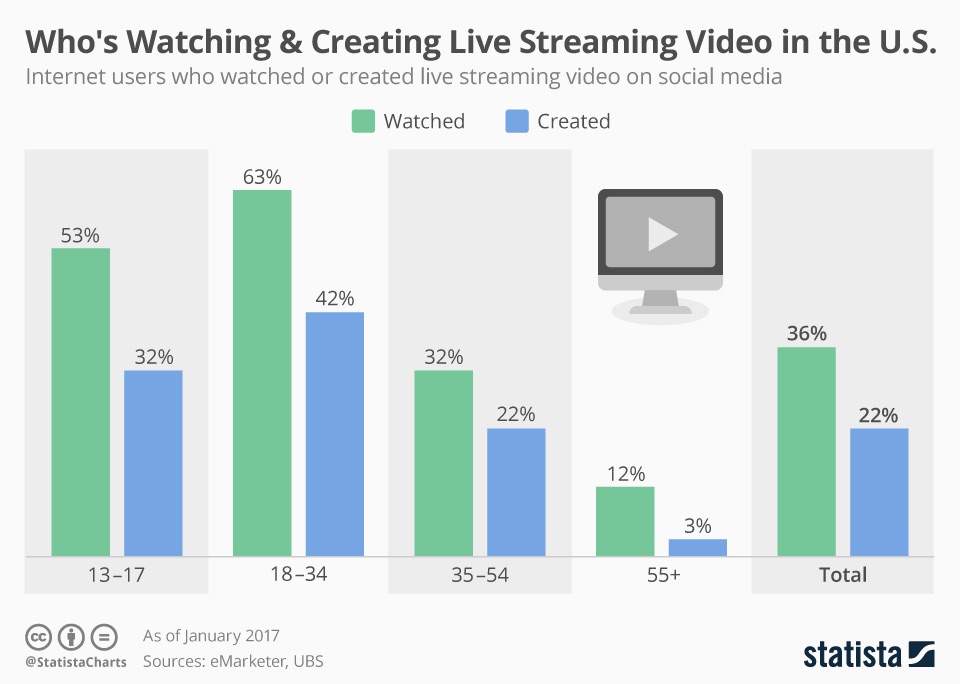 Apart from watching live videos, many people also make purchases as they watch. This is why 82% of people would choose live video over any other social media posts. Because of this, live videos get more engagement than other post types, at least 10x more comment.
You can do live videos on Facebook live, YouTube Live, Periscope, Twitter, Snapchat, Twitch, and Instagram.
You can use live video to deliver product demos, product introductions, how to tutorials and webinars.
For example, Active Endeavors, a retailer posted a short Facebook live video to showcase the Arctic Grip sole. You can see the engagements is great.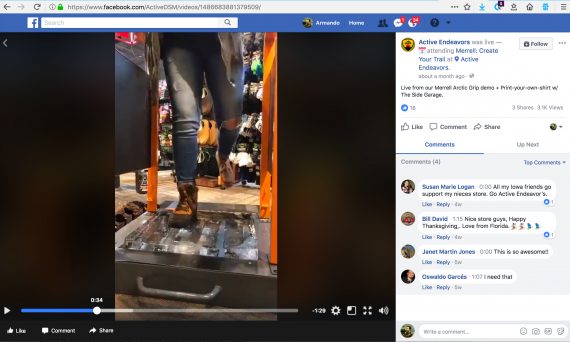 2. Use Instagram stories
Instagram stories are 10 seconds still pictures or videos that disappear after 24 hours from the platform. You can either shoot them from your Instagram app or you can add images from your camera roll. You can also use the feature to create polls to use in collecting customer data.
This is a valuable feature you can use to promote your product and also drive traffic back to your e-commerce store. The story is positioned right at the head of a user's news feed making it prominent for them to see.
Instagram stories now have about 250 million daily active users. This is why over 50% of businesses on Instagram post at least one story every month. 20% of the stories produces at least one direct message. That is enough engagement rate from a business social media account.
Below is a good example of a company that uses Instagram stories to showcase new products. Moon and Lola is a North Carolina jewelry and homeware company. They used the Instagram story to launch a new hoop earring. See it below.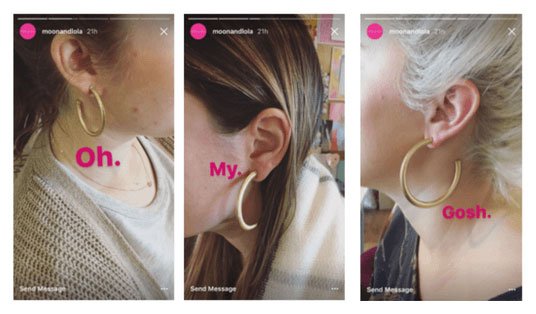 3. Use Facebook Messenger live chat
With 1 billion active monthly users, Facebook Messenger chat is a great tool you can use to drive traffic to your e-commerce store. The best part of it is that 67% of customers expect to chat with a business. So, you are not intruding. It gives you the opportunity to connect with visitors as they make buying decisions.
Facebook Messenger chats also get about 60-80% open rate in a chat. The feature includes automation, integrations, drip campaigns and tools that can help to grow your email list. You can use it to share new products in your e-commerce store, set up drip campaigns to nurture your leads and onboard new clients.
A good example of an e-commerce store using it is Spring, an e-commerce retailer. They use Facebook Messenger and Zophim live chat to help their customers start the buying process. They use thumbnail pictures of products that link back to their e-commerce store.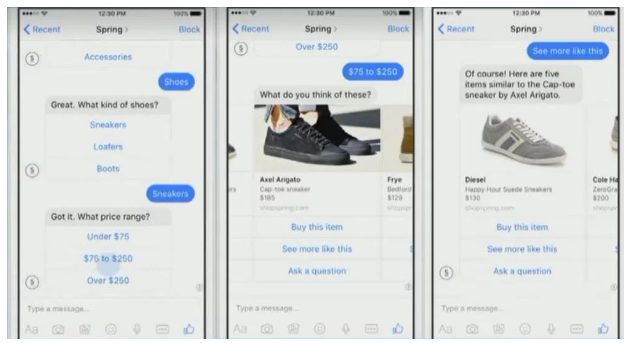 4. Share product review on social media
Product review is very important to buyers. A study revealed that 61% of customers read reviews before purchasing.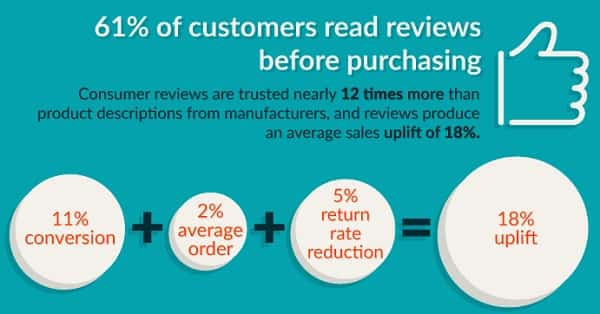 Sharing customers review on your social media platform is a good idea because it will be easy for customers to relate with what people are saying about your product. This is especially true if you encourage customers to drop their review directly on your page. It will help you build trust in your prospects and this can lead to more traffic and sales of your product.
If someone reads a review of your product on your social media page, they are more likely to visit your website to learn more. Product reviews increase conversion rates and it also serves as word of mouth.
You will need to encourage your customers to leave reviews for you on your social media page apart from rating you on the Facebook business page. They can make a mention of your product. You can also copy and paste the review on your product landing page to encourage more people to buy from you.
5. Use visual content
Sharing visual content on your social media profiles is great because the human brain processes visual information 60,000 times faster than text.
Also, 40% of people respond better to visual information than plain text. This has led to 40% more engagement on social media than what you can get from blog posts.
The truth is, 67% of consumers consider detailed images to be more valuable and helpful in making a purchase decision. This is why 80% of marketers use visual assets in their social media marketing.
For example, check out this product photo from DSW. You can see it has 933 likes. The color coordination is great and inviting.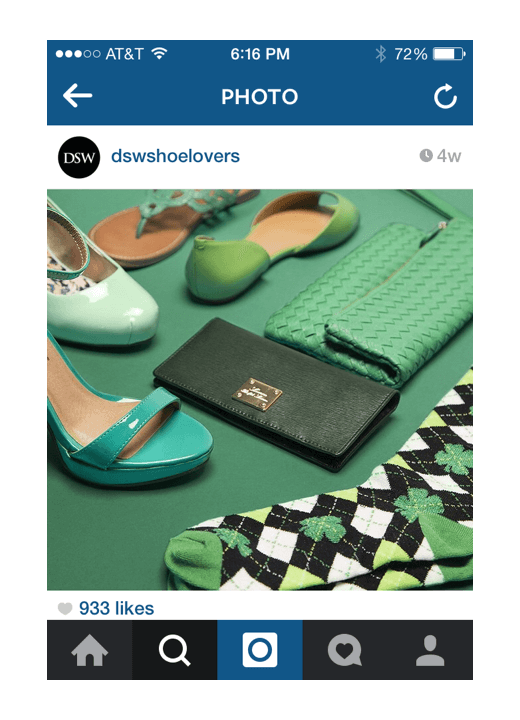 Conclusion
Above are five underutilized social media hacks that will help you to drive tons of traffic to your e-commerce store. Have you tried any of them before?