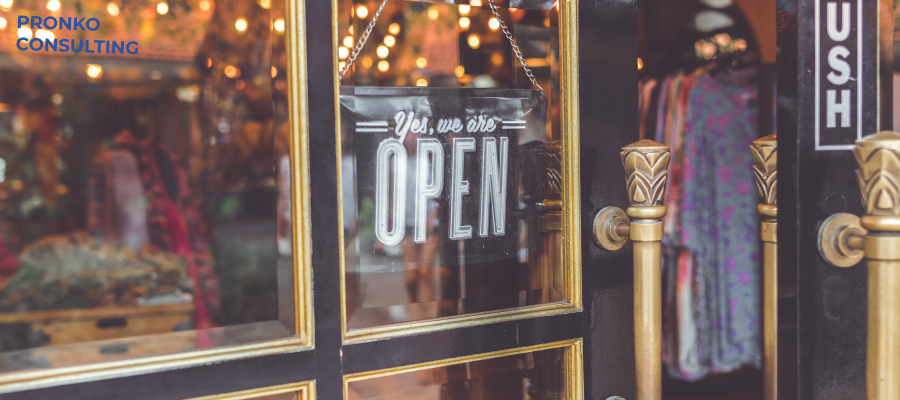 Everyone is selling something. With over 2 million e-commerce companies in the world (excluding China), it's hard to get customers online. That is a lot of competition already.
That's not all!.
A report also revealed that up to 98% of your visitors will not buy from you at all. Even those who are interested to buy may not do so immediately. When they are ready to make purchases, they may forget that your product exists and they will go right back to your competitor to buy.
So, the questions is: how do you get people to patronize your e-commerce store?
The answer is to constantly remind them about your product. This means engaging in effective marketing that constantly reminds them about you. This will make many of them come back to buy from you.
So, how do you do that?
In this article, you will learn five things you can do with customers who do not buy from you:
Let's get started.
1. Get them on your email list
Email marketing is one of the most effective marketing tactics out there. It gives you the opportunity to continue to engage with your visitors and customers long after they are gone. This is why you need to build an email list.
To build an email list, you need an auto-responder like Aweber, GetResponse or MailChimp. Then you need sign up forms positioned in different parts of your website to attract visitors to sign up.
The most effective sign-up form that works for this purpose is the exit intent Pop-up sign up form. You set the Pop-up to show when your visitors are about to leave your website. Once it is triggered, you can show your visitor an irresistible offer that will lure them to sign up to your email list.
For this to work well, you will need an irresistible offer to entice your visitors to sign up to your email list. This is because it is hard to get subscribers without offering them a good reason to join your email list. Some of them are already subscribed to many email lists, adding your own to it can be arduous.
Giving them good incentives will encourage them to sign up to your email list. Incentives you can offer include:
E-book
Whitepapers
Reports
Checklists
Case studies
Templates
Worksheets
Find an example from Crazy Egg below: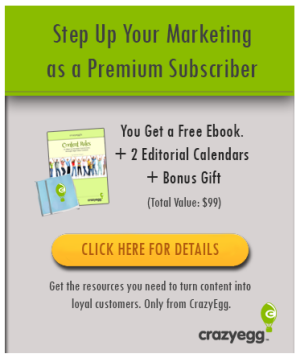 Crazy Egg provides lots of value for their subscribers by offering different freebies, such as a free e-book, 2 editorial calendars, and a bonus gift as seen above. It is inviting and enticing, especially with the bonus gift. They also added the value of the offer. This makes the offer more precious and valuable. This is not common. Most websites just offer free updates with a single free download.
Apart from offering downloadable, you can even offer free samples of your product. A company, Marsh did it and they increased sales by 2000%.
After they have signed up to receive email updates from you, it is time to send periodic emails and updates about your products and services. This keeps you in their minds until they are ready to buy.
2. Create a "start here" page for new visitors
A "start here" page is a page that shows visitors how to find answers to questions they have. Although having an about page is great, a start here page is better for new visitors. It gives them the liberty to choose what they want to do next based on their goals.
For example, if you sell a different product for different markets, a start here page will guide them on the different path they can follow to achieve their aim.
An effective start here page contains 7 elements, which are:
A short statement about you and your vision
Key term definitions
A message for your visitors
Links to your best content
A call to action to join your mailing list
An invitation to connect with you on social media networks
A link to your product offer
For example, check out the Modest Man store below.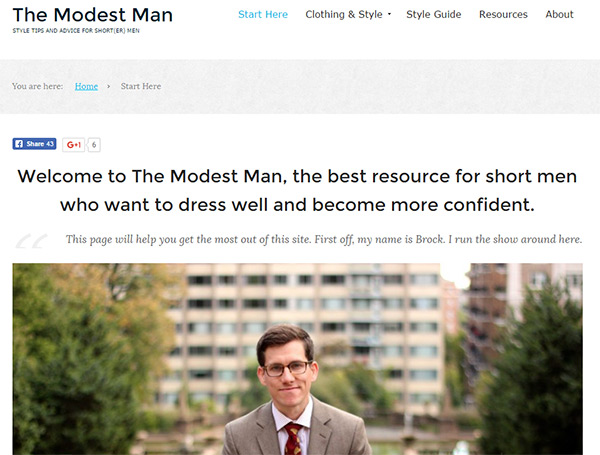 The Modest Man "start here" link on their homepage shows first-time visitors what the website is about and how to start.
3. Tell them how awesome your products are through product reviews and testimonials
Product reviews and testimonials drive user engagement and improve visitors' trust. There is nothing like reading the reviews or testimonials of people who have used the product or service you want to buy in the time past.
Visitors who are looking forward to using your product will want to learn more from other user's experiences. Therefore, adding reviews and testimonials to your product pages is a great way to convert your visitors into customers.
For example, Express watches increased their sales by 58.49% when they added a review widget to their product pages.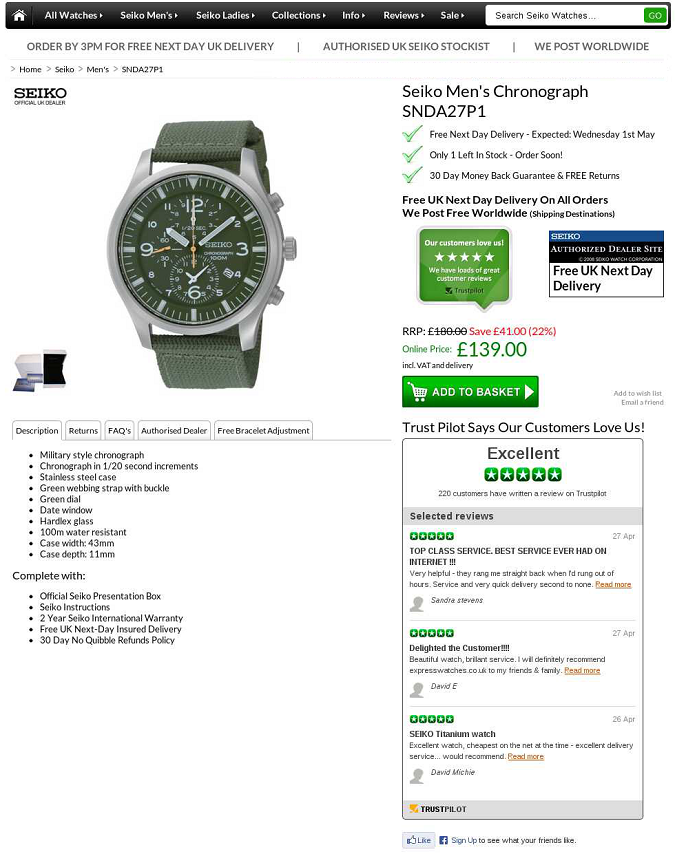 4. Educate them through your content
A lot of e-commerce websites are creating content online. In fact, there are over 3 million blog posts created today alone (as at the time of this write-up). That is a lot of content. You need to make sure that your content is outstanding. Create content that will give users a reason to do something, such as buy your products. They may not need it immediately, but let your content create a need for it.
The content on your website must provide useful information to your visitors. They come to your website to find information; you need to offer useful information to make them stay.
A good example of a website that provides useful information for their users is the Ryanair.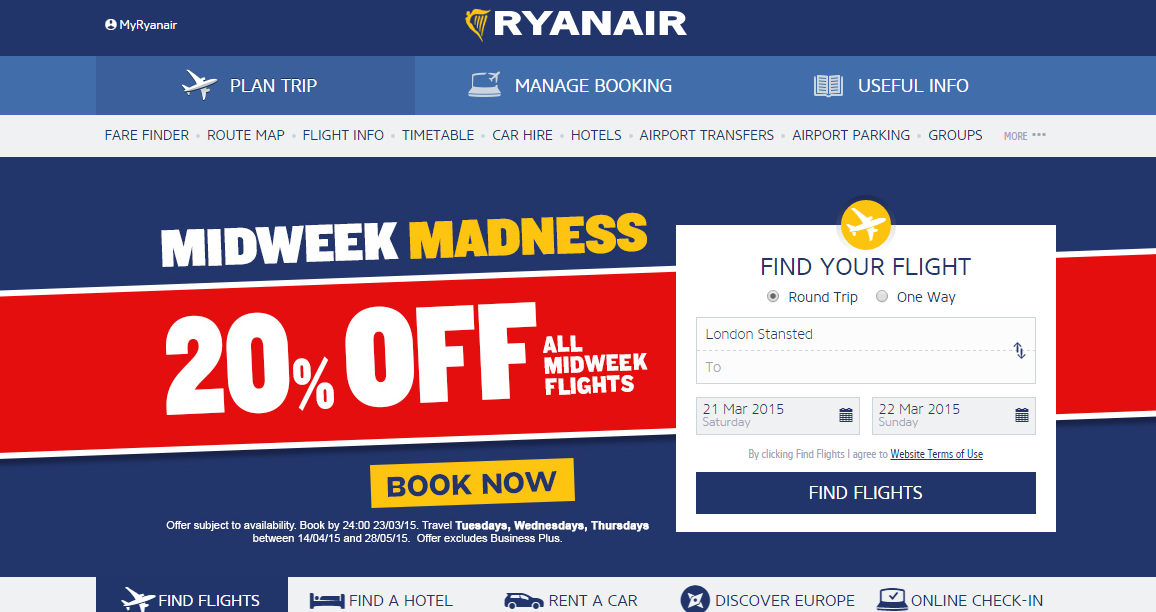 From how to plan your trip to booking information, a traveler can find all the information they need easily.
5. Show them clear images of your product
Images are essential for e-commerce products. Visitors will like to see the product they want to buy. Images can increase your conversion rate. According to Aberdeen Group, businesses that use visual engagement tactics see an 83% increase in annual revenue compared to their competitors. Check out the Rhett and Link website below.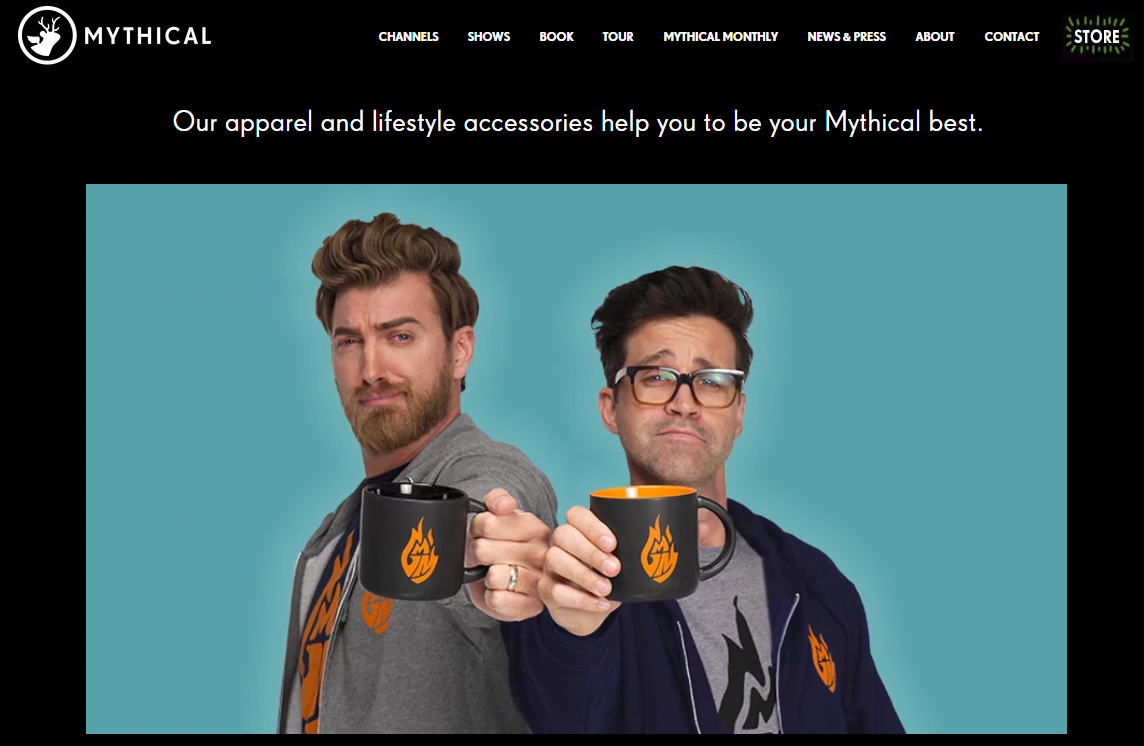 You can see that the picture is inviting. The models are enticing you with their funny faces and wearing the apparel they're selling. It looks good on them. This alone can make anyone wants to click through to see the product. The image serves three purposes - it draws the eye, it engages, and it converts.
Conclusion
If you can get your visitors on your email list, create a "start here" page for new visitors, tell them how awesome your products are through product reviews and testimonials, educate them through your content and show them clear images of your product, it will keep visitors on your website and help to convert them into paying customers.