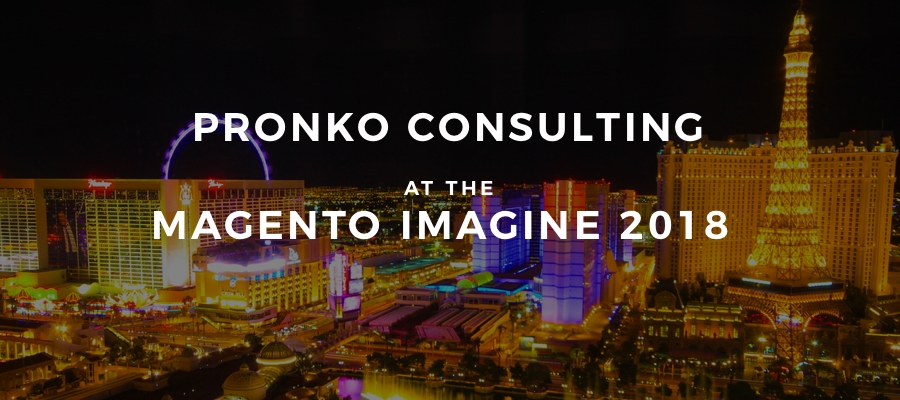 It is official!
Pronko Consulting is going to Magento Imagine 2018.
The great event is fast approaching and we are proud to be a part of it.
It is a 3-days event taking place in Wynn, Las Vegas, Nevada on April 23-25th, 2018. Over 3,000 people from 50+ countries are going to be attending. There will be over 100 speakers and more than 75 sessions that will educate and inspire attendees.
Magento Imagine 2018 is the topmost event in the Magento calendar featuring innovators in the e-commerce industry. The purpose of the event is to connect the global e-commerce ecosystem. It is an event that is inspiring, interesting and educative.
BigDamRun
Part of the event at the Magento Imagine 2018 is the BigDamRun and Magento Contribution Day. The Bigdamrun is a 5k to 10k walk/run/visit from the Hoover Dam and back. The event is done in conjunction with Magento Imagine. This is to encourage busy but savvy developers to stay healthy, socialize and talk about Magento while they run or walk.
Magento Contribution Day
The second event is the Magento Contribution Day. This is a Magento 2 intensive debugging workshop where participants will learn advanced insight into Magento 2 diagnostics and have the opportunity to work with Magento core architects to contribute to the Magento 2 core. It is a fun event where developers from Magento community will get together to enjoy coding, foods, and drinks.
The highlight of the event is the attendees. You will have the opportunity to connect with top merchants, partners, and developers. It will also feature live breakout sessions, customers' panels, and keynotes.
Connect with Pronko Consulting
Pronko Consulting is a leading Magento e-commerce agency. We specialize in B2C and B2B markets including project planning, software development, and post-launch maintenance. It might interest you to know that we are one of the first agencies who have both Magento 1 and Magento 2 certifications including Magento 2 professional Developer Certification, Magento Certified Developer, and Magento Certified Developer Plus.
Magento Imagine 2018 is a great event for Pronko Consulting to understand the trending and up to date practices for Magento and apply the knowledge to help clients make use of the benefits of Magento.
Are you going to the event? If you have not signed up yet, do so here. Pronko Consulting is going and we will like to meet you there.
Looking forward to seeing you there!