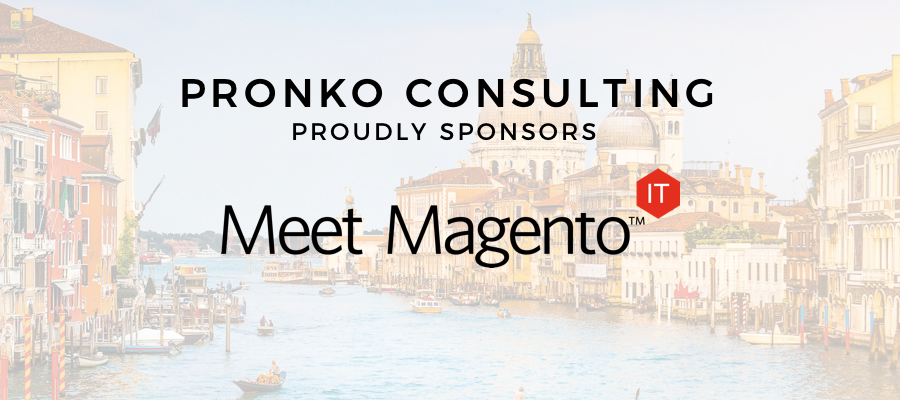 We are proud to announce that Pronko Consulting is sponsoring Meet Magento Italy 2018 in the Bronze sponsorship category. The event is taking place at Vernice, Italy on May 24-25th, 2018.
In addition to being one of the bronze sponsors of the event, our CEO, and founder of Pronko Consulting - Max Pronko is also one of the speakers at the event. The speakers are professionals and trailblazers in the Magento and e-commerce community.
Meet Magento is one of the most important international event specifically designed for the Magento and e-commerce community, Merchants and retailers, E-commerce experts, Marketing professionals and IT experts. It gives you the opportunity to connect and network with e-commerce and technology professionals worldwide.
The Meet Magento Italy 2018 is a two days event packed with innovation, high training and exchange in a dynamic environment. You will have the opportunity to learn how to use new strategies to implement smart solutions for your online business. You will be learning from the best industry experts who are ready to share their success stories and experiences about the Magento platform and online shopping. You will have the opportunity to listen to over 35 speeches by experts in the industry and also know the trending and hot topics in e-commerce and Magento.
It is a series of events that are organized in more than 40 countries of the world, such as Brazil, Japan, Argentina and the United States. This is the 5th edition for Italy and it is scheduled to take place on May 24-25th in the beautiful city of Venice, Italy.
Over 1,650 attendees, 150 international speakers and 80 sponsors among which is Pronko consulting are billed for the event.
One interesting thing about the event is that there will be After Show Party where you get to meet top industry professionals to connect and network with them.
Pronko consulting is an e-commerce agency that specializes in the Magento platform. We specialize in B2C and B2B markets such as project planning, software development, and post-launch maintenance. Our exceptional services include technical consulting, performance optimization, Magento 1 and 2 modules development, migration to Magento 2, systems integration, design, and testing.
Have an e-commerce business idea? Send us an email on info@pronkoconsulting.com message or call +353 85 85 32 401. We will help you to develop it into a profitable software solution.