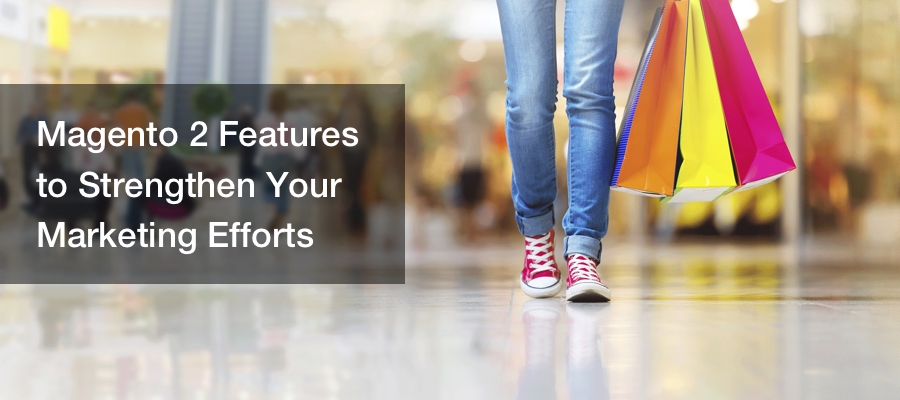 Magento 2 features a robust selection of marketing features that allow you to both expand your brand's awareness and sales.
Magento marketing focuses on two separate areas. The first focus is expanding your brand's reach and awareness. Magento 2 gives you the tools to reach more people and create more opportunities to make conversions.
The second focus is on getting current customers to spend more. Increasing the average transaction value is often overlooked by businesses. It is generally easier to increase the average transaction value than it is to bring in new customers.
In either case, Magento 2 leaves you with all the tools to market your business successfully to increase profits.
Refer or Share Email
Magento 2 gives you the ability to add an option to send an email to a friend. Your customers can use this link to send products to a friend who might like them or to send the product to somebody who would be interested in buying it for them. In either case, the refer email is an opportunity to expand the reach of your brand. The act of sharing your brand has the same positive effects as brand endorsements but on a significantly more personal level.
Another option is to create an incentive for your customers to share your brand with their friends. You can offer things like free shipping by giving them a referral code that they can pass on to their friends. This method is more likely to be used by your customers simply due to the incentives involved.
To set up the refer email you simply enter the Magento Admin and navigate through "Stores -> Configuration". From here you can select the "Catalog -> Email to a friend" sections on the left panel. You can now open the email templates and fill everything out accordingly. Magento will make the process of setting everything up easy for you.
Wish Lists
Giving your customers the opportunity to create a wish list is proven to increase sales. It's a tool you can use to bring in more customers by allowing your current customers to share their wish list (see the above section at Magento Admin Configuration page).
Wish lists are also a useful feature when it comes to keeping the customers you have. This allows you to collect information from your potential customer to set up their account and wish list. On top of that, you will have the opportunity to market to the user about the specific items in their wish list.
Customers can also save the products they currently can't afford but want to save up for in their wish list. This creates an opportunity for you to sell items of greater value and to in-turn increase your average transaction value.
It's no secret that personalized marketing is the most effective. The wish list functionality gives you all the tools you'll need to take the guesswork out of marketing to potential customers that are already primed for purchase.
User Generated Content (Reviews)
Allowing customers to review the products you sell is key in both gaining new customers and increasing your average transaction value. Allowing users to leave reviews gives your brand a more personal feel and creates a sense of trust between the customer and brand.
Allowing users to leave reviews also encourages timid buyers to leave their fears behind and complete the transaction. There's a reason sites like Amazon allow for user reviews.
Creating a way for your customers to voice their opinions lets them act as ambassadors to your brand by giving them a platform to publicly endorse you to potential customers. The positives of user-generated content go on and on, but the bottom line is that Magento makes it easy for you to set up the functionality and in-turn increase your revenue.
Search Engine Optimization
Search engine optimization (SEO) can be one of the most mysterious marketing methods available. Many businesses and business owners don't fully, or in some cases even partially, understand how SEO works and how they can use it to build their business.
Magento 2 makes SEO easy and gives you all tools to optimize your content for search engines. Keep in mind that SEO takes place both on your site and mentions of your site all over the web. While you'll have to build backlinks outside of your site, Magento 2 will enable you to complete all of your on-site optimization. Magento 2 will allow you to optimize the search terms your products rank for to help generate traffic.
In addition, Magento 2 makes it easy to complete basic SEO tasks like setting up proper metadata, creating site maps, and redirecting URLs. Your brand can take advantage of these features to grow its reach and revenue.
Special Pricing and Promotions
Every business runs promotions and there's good reason for that. Promotions will make your potential customers more likely to buy, and in many cases, they'll spend more. Using promotions to build your customer base is also effective. You can do this by creating promotions specifically for new customers. In addition to creating standard promotions, you can also use the promotional features in conjunction with the referral and share tool to create a marketing funnel that accelerates your business' growth.
Magento 2 gives you all the tools you need to set up promotions that are triggered by a variety of conditions. These conditions can be first time buyers, a certain total purchase value, or even just time and date based sales. If you use the tools Magento has presented properly, you're sure to increase your revenue and your brands reach.
Marketing is often overlooked in small businesses and young eCommerce stores. Magento gives these businesses the opportunity to create marketing outlets themselves to make the most of their capital. Marketing efficiently with Magento 2 is sure to boost revenue and increase your brand's reach and exposure.
Magento 2 offers a plethora of highly functional marketing features making it the best solution for building your eCommerce store. Magento's toolset goes beyond marketing and extends into payments and customer experience.