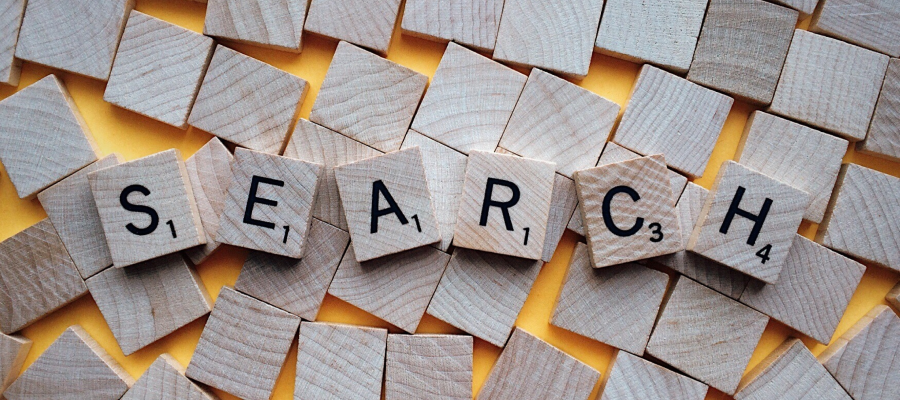 All Magento stores have the site search. It is an important function on your Magento store that allows visitors to search directly for the product they want to buy instead of manually searching through catalogs of products. Shoppers are becoming internet savvy and they expect to see a search box wherever they go. Unfortunately, many Magento store owners are not maximizing its benefits.
Site search is very important to customer interaction and engagement on your Magento store. It can make or break your customer's shopping experience. Customers who cannot find the products they are looking for will abandoned your site to go somewhere else.
In case, you are wondering why you need a site search on your Magento website, the stats below will give you insights on why it is important to your conversion rates and sales.
Website visitors prefer to use the site search function to find products. This is because it is easier and faster to locate what they want easily.
People who use the search function on a website are more likely to make purchases. According to a recent research by E-consultancy, visitors converted at 4.63% versus the websites' average of 2.77%, which is 1.8 times more efficient. However, visitors that use the search function contributed 13.8% of the revenues.
User-friendly site search function experiences increase conversion rates. This is because about 30% of visitors will use the site search box and about 25% of site visitors will click on a search suggestion. This way, they will find the products they are looking for in a more streamlined way. They will be in control of their shopping experiences and this will make them more likely to make purchases.
According to WebLinc, visitors who use the site search function converted at a 216% higher rate.
The statistics above gives the reasons you need to optimize your site search function on your Magento store.
Below are 5 ways you can optimize your Magento site search function to increase conversion and sales.
1. Know what your website visitors are looking for and optimize your site search for it.
The first step in optimizing your Magento site search function is to find out what your website visitors are looking for. To provide the answer to this question, use the Magento reporting to see what results your users are seeing. Look for high volume search terms, misspelled words, or search terms that are not showing the right amount of results. Then change your search results to improve it.
You can control what users see in your Magento site when performing searches. Magento functionalities allow you as the administrator to change the search logic and improve it. Go through your searches and analyze the results.
Find out if your website is returning the best product for the search term and if there are more products that should show up for the search term. Here you can include synonyms to include related products and adjust your product data so it comes up for necessary searches. Redirect a search phrase to a category page or a specific product page. This will enable your site search to display the best result for search terms increasing your conversions and sales.
2. Use enhanced search auto-complete
Auto-complete works by helping users to bring up relevant products as soon as they type it. You can maximize this functionality by customizing it to promote specific products. To do this, push the products to the top of the Auto-complete suggestions whenever visitors type the search term. Thus, enabling your site user to see such products first.
The auto-complete feature helps you to sell more. According to a study, the visitors who land on an auto-complete page suggestion are six times more likely to convert than those who do not.
You can use the auto-complete feature to sell high-end products or products that need to be sold fast. For products that are becoming popular on your search result page, create a dedicated landing page for them to help them stand out from other similar items. The landing page can include other details such as additional features and the technology behind the product.
The enhanced auto-complete features also enable the site user to see the product thumbnail image and the price in the search. This will help the customer see the product details even before clicking through to the product page.
Below is a good example from The Irish Store. When you type in a search term, it returns the search with pictures of the product, the price and customer reviews.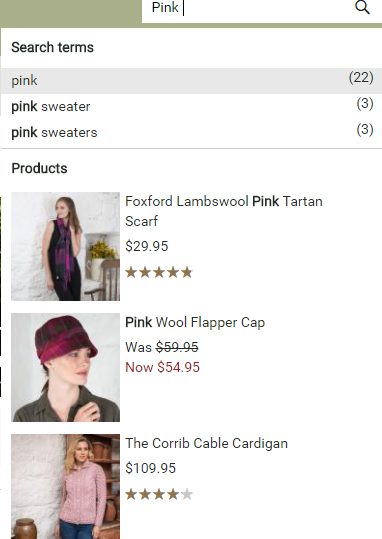 3. Configure Google Analytics to track your Magento site search
It is possible to configure Google Analytics to track and report the performance of your Magento site search. Tracking Magento site queries in Google Analytics will help you know the top search queries and categories, find common misspelled words and measure search conversion rates.
4. Allow users to filter the search results
It is difficult and tiring for users to sort through thousands of results for a single search term. Help your users to quickly find what they need by adding filters to the search page. You can add filters like sorting options (relevance, popular, trendy), price, availability, size, color and more. This will help them to quickly narrow down to what they want quickly and make purchases.
For example, take a look at a Magento store - The Irish Store below. I clicked on the women sweater category and it brought out different kinds of sweaters. You can sort by the type, price, size, color, and bestsellers (product name, popularity). Users can refine the items based on what they want.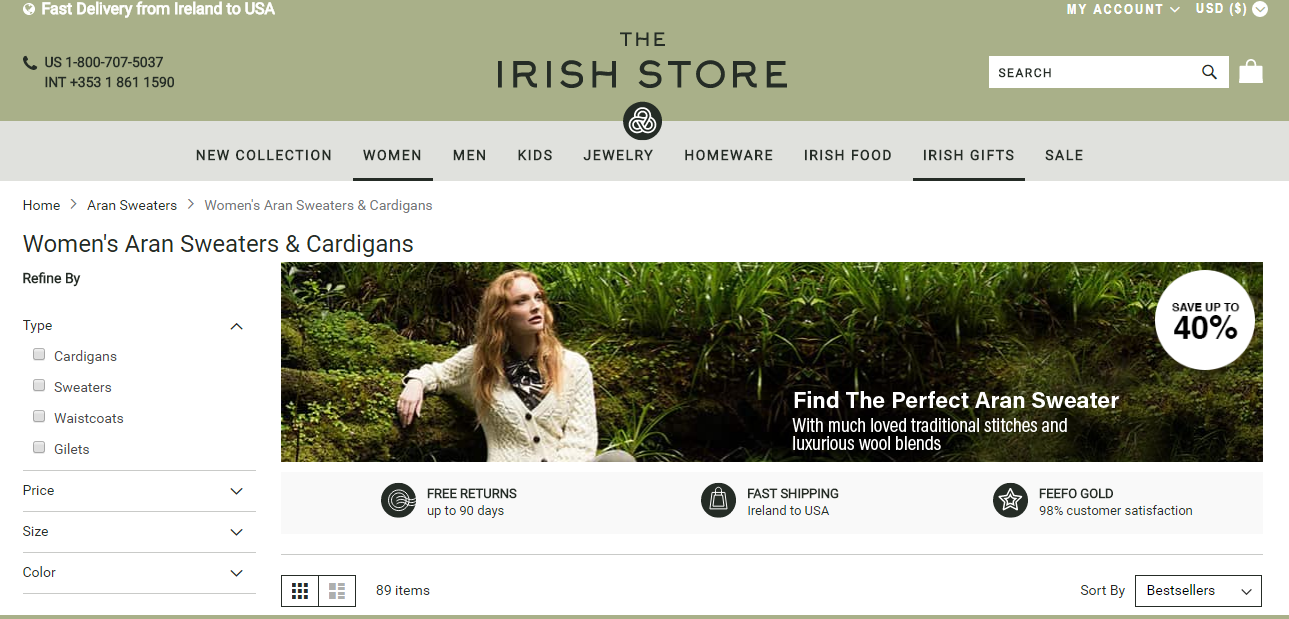 5. Optimize for long tail semantic search
Long tail semantic searches help to further push the search engine to make it understand the user intent for search. Users that are ready to make purchases usually type the description of the product they want. For instance, if someone searches for "long sleeve pink dress", it will convert more than someone that just type "women dresses". The retail integration online specified that websites with a semantic-based search engine have a low 2% rate in shopping cart abandonment, compared to as much as 40% on websites with plain text search.
Therefore, ensure that you help your shoppers by making your e-commerce store a semantic-friendly site.
Conclusion
The Magento site search function enables your customers to find the rights products quickly, helping you to make more sales. In addition, it helps you to know the products that your visitors are searching for that is not available in your store. You will manage your stock according to demand.
To enjoy the Magento site search benefits, ensure you know what your website visitors are looking for and optimize your site search for it, use enhanced search autocomplete, configure Google Analytics to track your Magento site search, allow users to filter the search result and optimize for long tail semantic search. Then, you will increase your conversion and sales.