"I need my money back"
This is a statement that is most dreaded among e-commerce store owners. The normal thing is to sell a product and get paid for it. But when a customer decides to return the product and collect their money back, it can be disheartening, especially if you have done all you could to make your customers happy.
The truth is, it is not only you.
Research revealed that at least 30% of all products ordered online are returned as compared to 8.89% in brick and mortar stores.
Why do people ask for a refund?
The above research also revealed 4 reasons why people ask for a refund:
20 percent of consumers returned items because they received damaged products.
22 percent said they received different products from what they ordered
23 percent said they received wrong items altogether
35 percent of shoppers return products because of other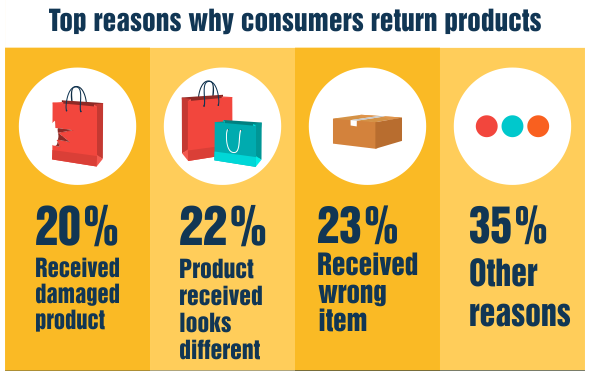 This shows that returns are unavoidable when it comes to buying and selling online.
The question is:
How do you handle refunds on your e-commerce website?
Before now, business owners believed that making refunds difficult will reduce the occurrence. But a research revealed that over half of online shoppers are dissatisfied with the online returns processes they go through. So when you make the process difficult for your customers, they leave unhappy and unwilling to make a repeat purchase from your e-commerce store. But if you make it easy, they will come back again. The truth is, 48% of shoppers would shop more with online retailers that offer hassle-free returns.
Having an easy refund process in your e-commerce store will help you to maintain long-term customer relationships. It will help you to increase customer loyalty. This is because your customers will trust you more. This will make them come back again and again to buy from you. A loyal customer will buy more from you.
A customer has a 27% chance of returning to your store after the first purchase. If you treat them well, you can get the customer to come back and make a second and third purchase and then they have a 54% chance of making another purchase from you.
Also, a repeat customer has a 60-70% of conversion as revealed in the Marketing Metrics. This is why you must do all you can to keep your customer and that includes making the refund process as seamless as possible.
How do you provide a hassle-free refund on your Magento 2 platform?
Use Converge Elavon payment extension.

The new Converge Elavon payment extension update includes a feature known as Partial refund (credit memo). This feature allows you to make refunds to your customers whenever they asked for it. You can even refund any amount as required.
Check out how it works here.
You can purchase the extension on our website or via Magento Marketplace.
Apart from the Partial refund feature, Converge Elavon payment extension also has great features like:
Detail transaction reports
Advanced transaction management
Mobile-friendly converge payment form
Enhanced security features (AVS, CVV)
Supports all major credit and debit cards.
Conclusion
Having satisfied customers will help you to get repeat purchases. One of the ways to satisfy your customers is by offering them a hassle-free refund whenever they need it. One way you can do that is by using the Converge Elavon Payment extension's Partial refund feature. Go ahead and download the extension now.