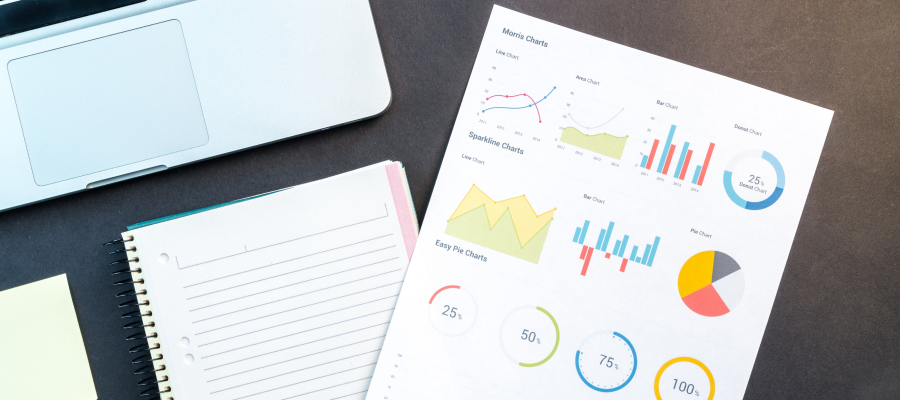 Magento 2 is the ecommerce software and platform that is trusted by the world's leading brands. The reason why Magento 2 is the preferred ecommerce platform is not far fetched - It is simply because with it, you can make a full-featured website with little effort. Again, there are different extensions you can use for your ecommerce to make it look great. This is the reason why over 20,569 websites are using Magento 2.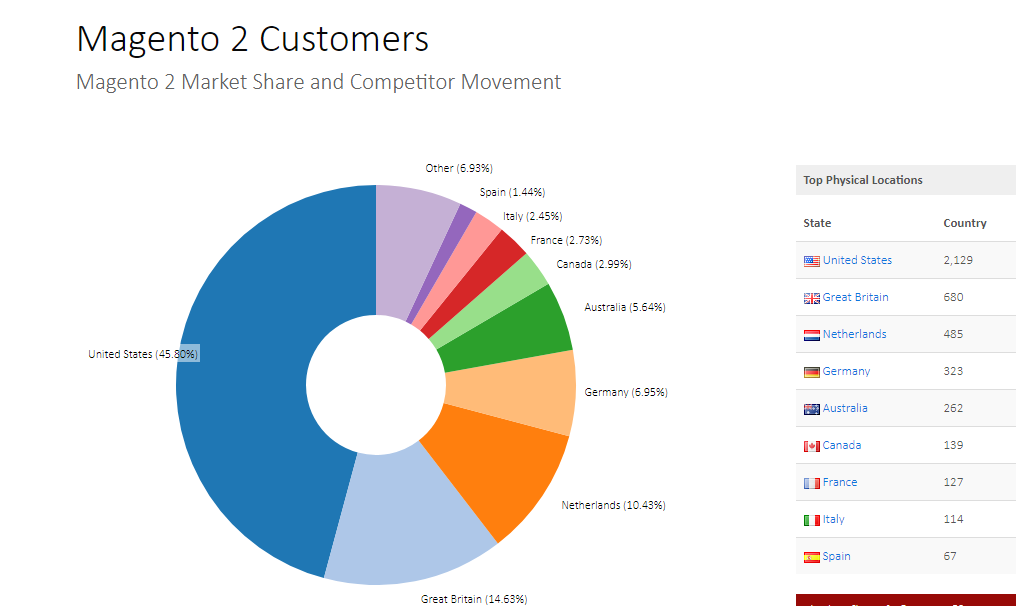 Below are the top website categories where Magento 2 is being used.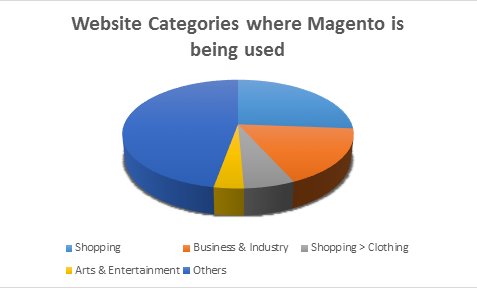 Sure you must be wondering why you need Magento 2 for your business and the benefits it offers. Magento 2 offers a lot of benefits you can't resist.
Below are 5 of them:
1. Magento 2 has improved performance and scalability
It is a fact that Magento 2 performs better than Magento 1 in all use cases. It comes with an enhanced indexer that help to increase its query performance speed. The indexing is a strategy used to transform merchant data such as catalog data, prices, users, stores, etc by creating index tables and updating them regularly to help improve the query speed and the performance of the web store. Magento 2 also uses Varnish cache, the popular HTTP accelerator technology which makes it easy to cache requests.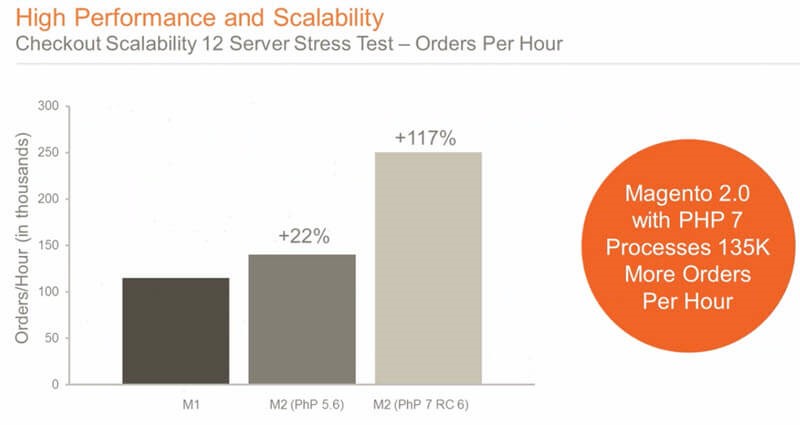 This makes it easy for more than one admin users to create and edit e-commerce products information without data conflicts in Magento 2. Magento 2 has improved performance and scalability because it:
Optimizes web pages for faster delivery
Increases server response times for all website activities
Improves efficiency of backend operations
Enhances database flexibility and scalability to handle peak loads
The actions above leads to Magento 2 being able to:
process 39% or more orders in an hour
deliver almost instant server response times for catalog browsing
have an add to cart server response times that can be up to 66% faster
have an end to end checkout times that is 51% faster.
load 30% to 50% faster than Magento 1 Magento 2 also comes with performance toolkit which enables you to create performance test scripts.
2. Magento 2 has improved checkout process
The checkout process is important to ecommerce websites because it is one of the factors that determines whether you make sales or not. This is one of the reasons why a lot of users abandon their shopping carts. According to a survey carried out on top ecommerce website like Walmart, Amazon, Wayfair, Crate & Barrel, Assos, etc, it is reported that 69.23% is the average documented online shopping cart abandonment rate.
Shoppers abandoned baskets for varied reasons such as:
The checkout process is very slow to load
There are few payment options
They are forced to create an account to view products
There are few shipping options.
A Batmard Institute Research revealed that it is possible for an ecommerce website to gain a 35.26% increase in conversion rate if it improves its checkout process. Magento 2 takes care of this problem. It is designed with an improved checkout process that consists of a 2 step process instead of the six step process of Magento 1.
In Magento 1, a shopper has to go through six stages before they can complete the checkout process. This includes the Checkout method, billing information, shipping information, shipping method, payment information and order review. It is impossible to skip any of these steps while on the checkout page.
However, Magento 2 has a better checkout process with only two steps, which are shipping and review and payments. These are shown on two different pages. These two-step process simplifies the checkout process and also improves customer experience. Furthermore, Magento 2 provides a way for visitors to be recognized as guests. This eradicates the login or registration form that is required for users to proceed to the checkout page. It also offers a dynamic shipping rate - shown according to the country, region or postcode. You can easily integrate your payment method into the checkout in Magento 2.
There are different payment options available which include Paypal and Braintree. You can create your own preferred payment modules with easy integration with any merchant checkout platform. Magento 2 checkout process also consists of order summary. This is where you will see the summary of your shipping information.
This makes it easy for you to see everything you ordered before you place the order. All these features help to reduce checkout friction and enhance customer experience. It puts customers in control of the whole checkout process. It also reduces the time it takes to checkout, increasing your conversion rate while reducing cart abandonment.
3. Magento 2 is Mobile Friendly
The internet is changing the way information is been accessed. Years ago, you can only browse on your computer. Today, you can browse on mobile devices such as tablets, laptops, watches etc. There is no better time to ensure that you have an ecommerce website that is more mobile friendly than now. The truth is, 80% of internet users own a smartphone. 62% of smartphone users have made a purchase online using their mobile device in the last 6 months.
Again, ecommerce dollars now comprise 10% of all retain revenue. Luckily for you, Magento 2 is mobile friendly with a responsive design reference themes and mobile friendly checkout. With it, you can create ecommerce websites that are supported by different devices including mobile using any screen resolutions. You can also create mobile friendly apps. Magento 2 have easy to use apps that will increase your conversation rate and make your business grow in no time.
The Magento 2 admin panel is touch-screen friendly. This makes it easy to manage your store using your cell phones or tablets. A mobile friendly ecommerce website makes your website appealing, user-friendly and easy to navigate irrespective of the device and its resolutions. Magento 2 makes your website to stand out in this regard. You are sure that your customers can view your product and place orders easily on your e-commerce store.
4. Magento 2 is easy to upgrade
If you are running an ecommerce store, you need a platform that makes upgrading easy. This is because not upgrading your ecommerce website can put your store at risk. This is because no ecommerce platform is perfect. New bugs come up daily and when they are discovered, they are usually reported to the team that built the software. This action normally necessitates the release of a new version that resolves the issue. When your platform is not easy to update, you will have security issues and this can be exploited. It can slow down your store or create attempts for people to break into them.
The solution? Upgrade to Magento 2.
Magento 2 is easy to upgrade. There will always be a continuous process to improve the platform and provide security patches to assist merchants to stay secure. This necessitates the release of new versions from time to time. The upgrade helps to improve ecommerce experience for you and your customers. When your customer experience is boosted, it will improve your sales through increased efficiency.
This will create an enjoyable experience for your customers. When your customers are happy they will keep coming back to buy more and more from your store. Regular updates also mean experience new and exciting features. When a new version is released, developers go to work looking for how to add new features and improve old ones to give a better user experience. All these benefits are available in Magento 2.
5. Magento 2 has a lot of key integrations Magento 2 is designed to allow integrations of common, but useful extensions.
The Magento 2 extensions are medium that helps you to carry out important activities in your ecommerce stores. It improves the features and the functionalities of your web store. A lot of merchants are using them to run their ecommerce stores. It allows you to customize and personalize your e-store as you want. The Magento 2 extensions include payment gateways like Paypal, Braintree, etc. This gives your customer's payment options to choose from. It also enhances sales.
There are different payment extensions such as:
Customer persuasion and loyalty programs extensions such as:
Upsell and cross-sell popups
Stock and price countdown
Free gifts and coupons
There are new features on Magento 2.2. Below are three of them:
6. Instant purchase
The instant purchase feature helps customers to place orders easily and quickly without going through the normal checkout process. When a customer visits a website to make purchases and they click on the instant purchase button on the product detail page, they are redirected to a confirmation page where they can place their order.
The instant purchase uses Braintree Vault which is available on Braintree credit card, Braintree PayPal and PayPal Payflow pro for stored payment information. This helps to cut down the amount of time it will take to place an order by 90 percent. It is good for mobile shopping as it makes it seamlessly easy to place orders.
It also helps to promote impulse purchases because customers can easily place orders on the go without following checkout processes. An online study revealed that 88.6% of Americans have fallen prey to impulsive online shopping. This means you will make more money.
7. Email marketing automation
One of the latest features of Magento 2.2. is the dotmailer email marketing automation. It allows merchants to create campaigns in few minutes. You can create automated campaigns through SMS, Push, email and other channels and manage transactional emails for your Magento stores. Dotmailer's toolset is easy to use. In case you need their assistance, they offer 24 x 5 to solve customers' problems. You can test out dotmailer by signing up for their free 14-day trial.
8. Advanced reporting
Reporting is very important to your success in your E-commerce business. The new advanced reporting features give you 20 reports through its web interface. It is located in your Magento Admin. This feature gives you insight in three critical areas, such as orders (the number of orders, AOV and taxes and shipping fees collect), customers (the number of registered accounts) and products (number of products orders and which product sells best). The report is updated continuously to show new data. This feature gives you the insight, data, and metrics you need to better manage your e-commerce business.
Conclusion
Above are Magento 2 benefits that you can't resist. Magento 2 has improved performance and scalability, it has improved checkout process that makes it painstakingly easy for people to buy from you, it is mobile friendly, which means your customers can assess your website on the mobile devices, it is easy to upgrade so your ecommerce store always stay secured and upgraded with new features and it has a lot of key integrations (extensions) you can use to boost your ecommerce conversions. It is time for you to upgrade to Magento 2 so that you can enjoy the benefits enumerated above and many more. Ready to upgrade your ecommerce platform to Magento 2 right now? Please leave send us an email on info@pronkoconsulting.com message or call +353 85 85 32 401 for more information.