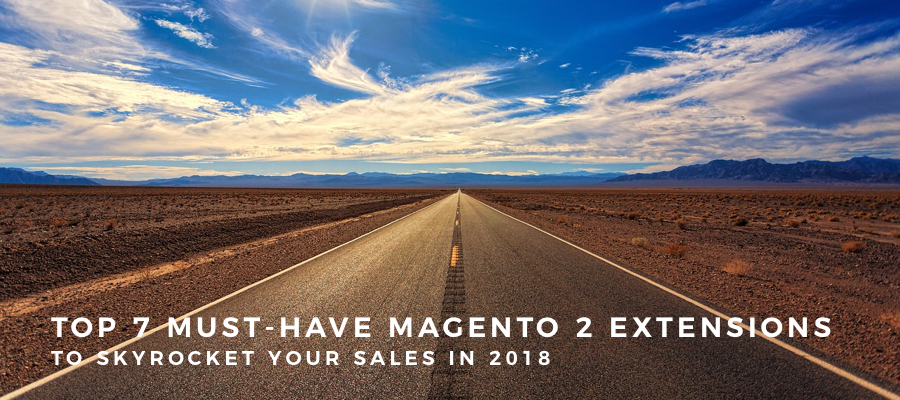 Magento 2 is a popular platform for e-commerce businesses. It is flexible, scalable and extensible. It allows you to add functionalities according to your requirements.
Although Magento 2 has different extensions for web stores, it is somehow difficult to find the right one that will help you boost your sales. However, I have done the work for you.
Below is a list of 7 must-have and top quality Magento 2 extensions that will help you to boost your sales this year.
Let's get started!!
Magento 2 Payment Extensions
According to cumulative data compiled by Statista, worldwide e-commerce sales are predicted to increase from $1.3 trillion in 2014 to $4.5 trillion in 2021.
With billions of sales taking place worldwide, it is worthwhile to look for ways to enhance your e-commerce web store. One of the ways to improve your sales conversion is by using flexible payment extensions. This will make it easy for your customers to buy from you, thereby boosting your sales.
Below are three proven and tested payment extension for your Magento 2 web store.
1. Realex payments extension
Realex payment extension is a 100% open source Magento 2 extension. It doubles your sales with secure payments experience. The realex payment extension is available in 54 countries of the world and you can transact in over 140 currencies worldwide.
Below are some of the features you will love:
a. Compatibility with other payment extensions Realex payment is very flexible. It allows you to add any payment methods of your choice to your e-commerce store. Having an opportunity to give your customers payment method options will greatly increase your sales.
A survey study by YouGov revealed that 40% of the respondent said they would feel more comfortable purchasing from an online store with multiple payment gateways.
b. Secure online payment Realex supports any device with its secure hosted payment page. This maximizes conversion and reduces PCI DSS compliance costs.
c. Different options to accept payment Realex uses a hosted solution that integrates in 3 ways - Embedded, lightbox and redirect as shown below:

d. Secure card storage The extension can store customer card details and processes or transmits transactions securely in the website store.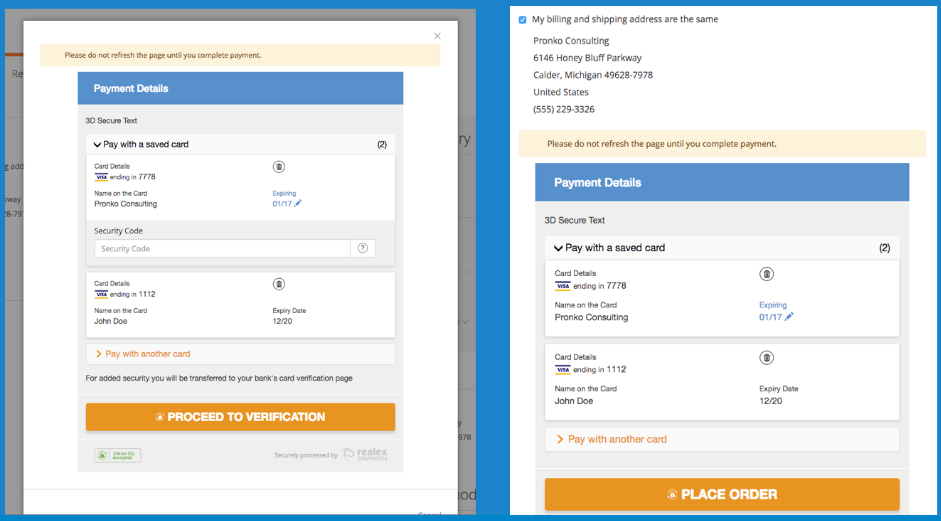 e. Improved payment with suite Realex has different improved payment such as Currency management, fraud management, card storage and 3D secure. The currency management is multicurrency and dynamic currency conversion (DCC), which helps you to reach new markets. The fraud management helps to reduce fraud risk with over 30 customizable fraud rules. The card storage has a secure store card token that provides one-click and recurring payment options to customers. The 3D secure enable online security service that has been created to protect your products on your website.

There are a good number of businesses using realex payments on their Magento 2 store such as the Irish store, Lara Bohinc, Cerruti 1881, LBS, Kent & Curwen, etc.
2. Elavon payment extension
Elavon is a payment module that integrates Magento 2 with Elavon payment provider. It helps you to accept credit and debit payments online. Accepting credit and debit cards on your e-commerce store increases your customer base tremendously. The more customers you attract, the more you will boost your sales.
Elavon is available across 3 continents and 29 countries.
Below are its mouth-watering features:
a. Hosted payment page Elavon has a hosted payment page that makes it simple to accept online payments through the mobile, tablet and desktop devices. The module supports embedded iframe form, lightweight popup and redirect. The HPP is fully customizable so you can control the way it looks.
b. Remote API Integration Elavon payment module offers simple shopping experience. It makes it easy for your customers to pay with any of their favorite credit or debit cards securely.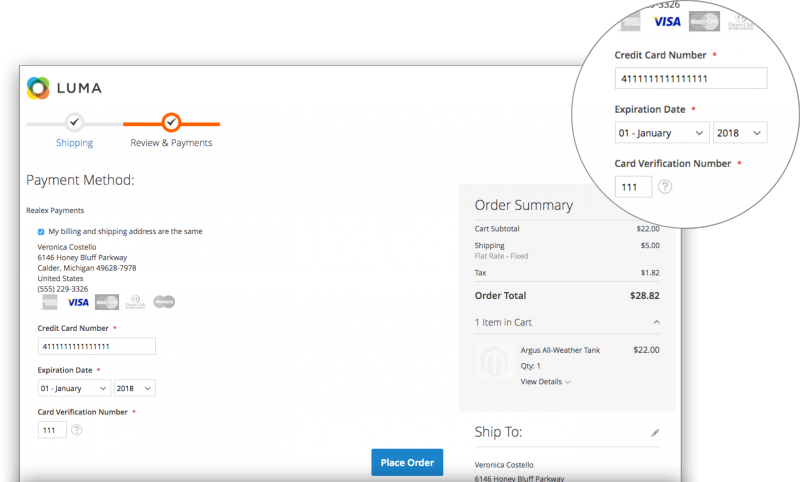 c. Advanced transaction reports Elavon payment extension has a settlement report page relevant functionality to help you analyze and take important actions around settlement transactions. This will help you to verify status and see important information on every transaction.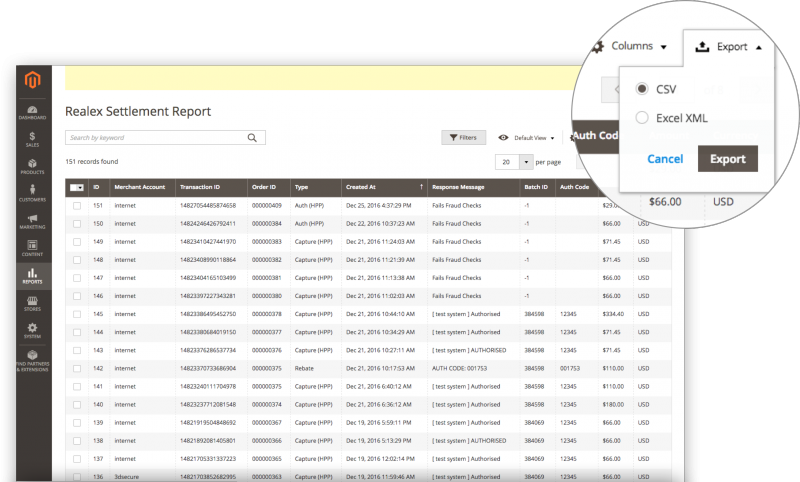 3. PagSeguro payment for Magento 2
PagSeguro is a payment extension for Magento 2 web store. It is one of the best payment extension that integrates perfectly with your web store. It gives your customers the opportunity to make payments without leaving the checkout page. PagSeguro is a Brazilian gateway, but it accepts foreign transactions.
Below are more features:
a. Secure Checkout PagSeguro payment offers a simple and easy way to accept online payments through the mobile, tablet and desktop devices. Your customers will be redirected to a fully secure PCI level 1 compliant PagSeguro page.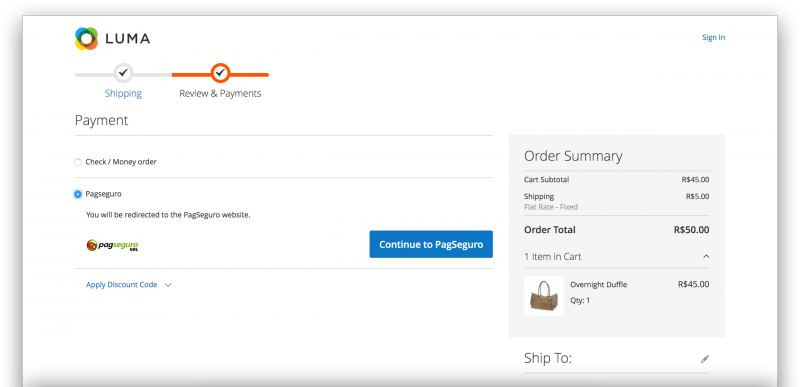 b. Lightbox Experience The lightbox is embedded in the store, while the payment details are processed in the secure environment. After the customer makes payment, they receive the purchase confirmation from the store.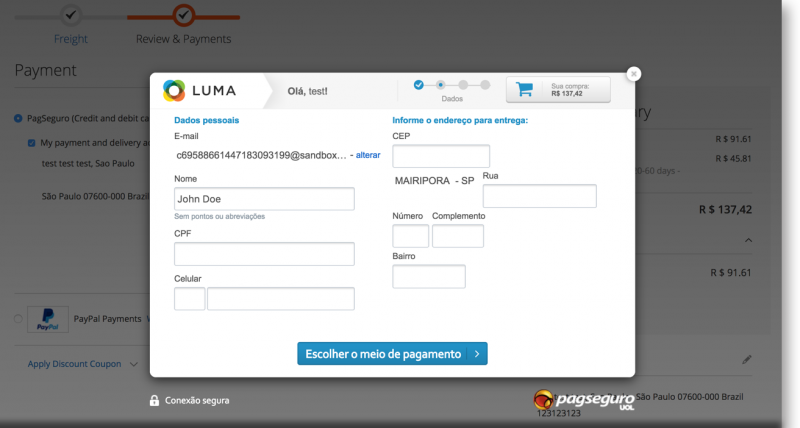 c. Payment details PagSeguro payment details are available on Magento admin order view page. It includes transaction refund, void and capture operations for a merchant through the panel.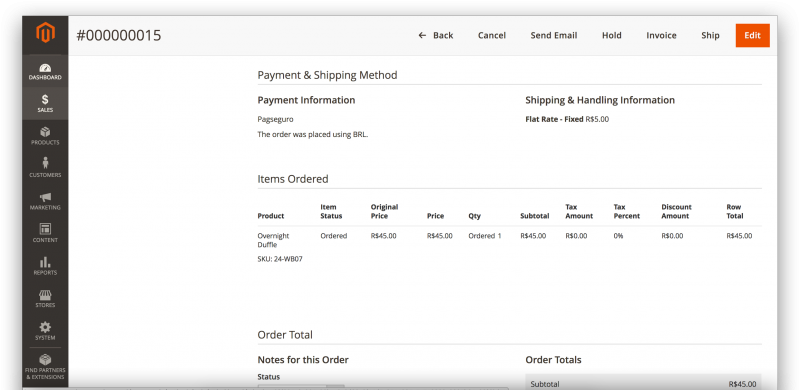 d. Flexible integration settings You can easily configure PageSeguro payment integration with your Magento 2 web store with no technical skills. All you need to do is to enter your details as it is in your PagSeguro account and select how you want the payment to be processed.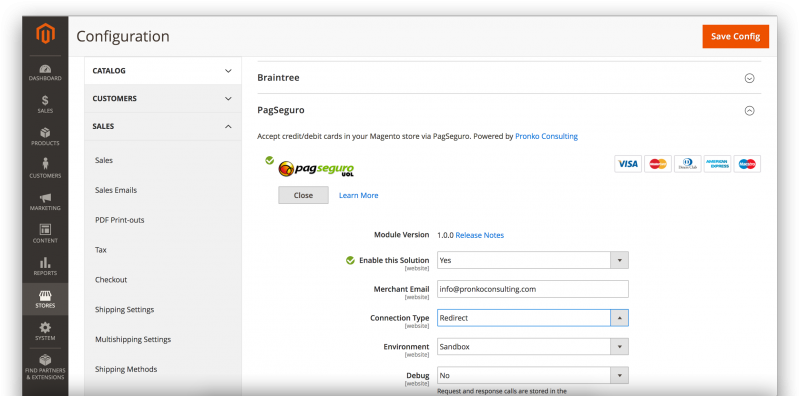 Magento 2 Customer persuasion and Loyalty programs
The truth is, it cost a business about 5-2x more to acquire a new customer than it does to retain an old one. That is not all! Existing customers spend 67% more than new customers. These are the reasons why you need to look for ways to keep your existing customers coming back to buy more from you. One way you can do it is by implementing customer loyalty programs.
Luckily for you, there are four (4) different types of Magento 2 extensions you can use to achieve this objective.
4. Upsell & cross-sell popups
Upselling and cross-selling is a strategy used by marketers to increase sales of products or services.
Upselling and cross-selling can boost your sales volume tremendously and also provide quality services to your customers. Statistics revealed that Upselling can generate over 4% of sales while cross selling adds to 0.2% of sales. This brings it to 4%-5% increase in sales.
An extension that can help you to boost your sales is the upsell and cross-sell popups. It recommends relevant products to your customers when they view or add an item to cart.
Features
Upsell The upsell feature shows customers similar but more expensive products. When a customer adds an item to a cart, a popup is displayed to recommend a list of similar and better options they can buy. It automatically helps you to boost sales. Below is an example of an upsell.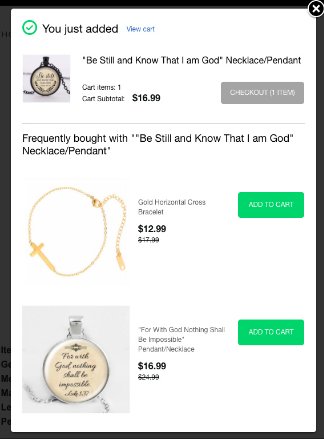 Cross-sell This involves packaging products that are related together into a bundle for your customers to buy. When the customers view any product in the package, a popup will appear showing them the whole product in the package. It is the same as the popular Amazon "People who bought this item also bought" feature.
Below is an example of a cross-sell extension at work.
5. Stock & price countdown
Stock and price countdown extension for Magento 2 is a countdown timer or stock countdown that helps you to create urgency in order to boost conversions in your Magento 2 web store. It makes your customers excited and encourages them to buy from your store.
Features
a. Sales countdown timer If you are running a promotion on your web store, you can use this extension to show a real-time countdown click to inform your customers about when the deal will end. This creates a sense of urgency in them and encourages them to buy quickly before the promotion ends. Below is an example of a countdown timer.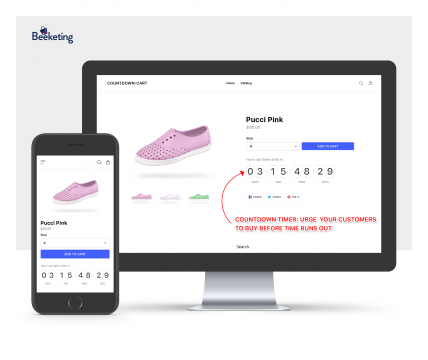 b. Low stock countdown bar You can create a sense of scarcity for your products on your web store. This will show the number of products remaining in the store. This alerts customers that they need to make a purchase quickly before the product is out of stock. Below is an example of a stock countdown extension.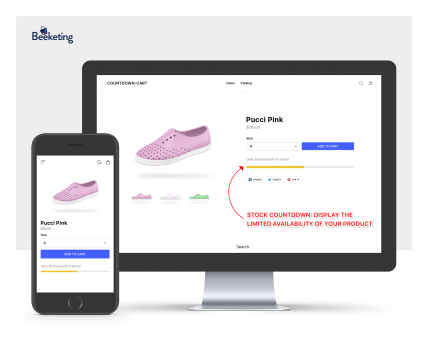 6. Free gifts and coupons
The free gifts and coupon extension provide different types of offers to boost checkout rate. The gift can be coupons, discount code, etc. One of the reasons why shoppers abandon the cart is lack of coupon code or gifts.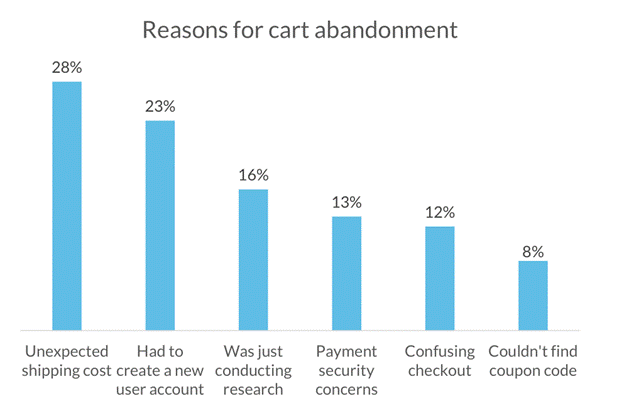 A research study revealed that 54% of shoppers will purchase products left in the shopping carts, if those products are offered at a lower price.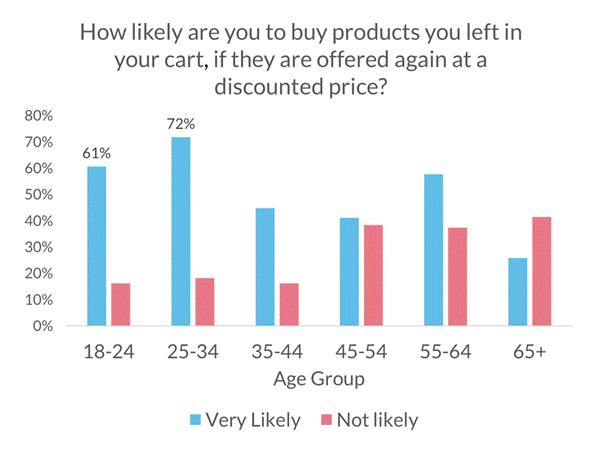 One way to minimize cart abandonment as seen in the chart above is by using the free gift and coupons extension. When you give your customers gifts before they checkout, they will change their mind from abandoning their carts.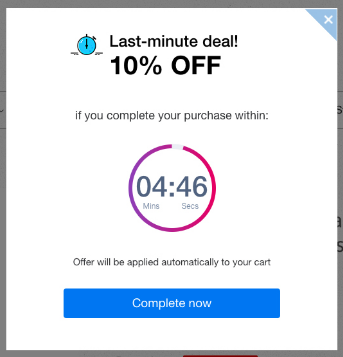 Features Just-get-it This feature helps you to offer gifts to your customers after they add the product to cart.
Share to-get The customers have to share the product they are viewing on their Facebook or Twitter page before the gift can be activated. After they share it, the free gift code will be shown to them as the reward. This helps you to drive traffic from the social media networks. The more they share your products, the more gift they get.
Countdown Timer The extension also includes a countdown timer that creates a sense of urgency and makes customers to quickly buy before the time expires.
Exit intent potent The exit intent popup detects when your customers are about to leave the web store and it offers them a free gift to enable them to stay and complete their order.
7. Gift card extension
The gift card industry is projected to reach $160 billion by the year 2018. Again, 65% of gift card holders spend an extra 38% beyond the value of the card. This means that by offering gift cards, you can boost customers' loyalty and increase your sales even more.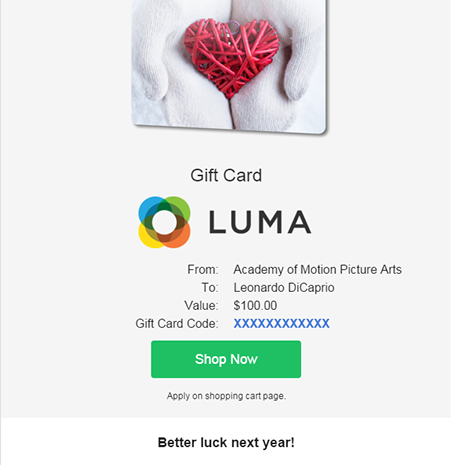 One way you can offer gift card on your Magento 2 website is by using the Magento 2 gift card extension. Magento 2 gift card extension is a great tool for creating gift cards. It allows you to add both physical and virtual gift cards to your catalog. Your customers can add personal messages to carts they buy on your webstore. You can track all the cards issued and their usage right in Magento admin. The extension basically allows you to create, edit, sell and monitor gift cards on your Magento website.
Features: a. Customization options Your customers can specify the value of the gift card while buying it. They can also create a personal message to the recipient. The card can be previewed before the purchase.
b. Virtual and combined gift cards The gift card extension enables you to create virtual, physical or combined gift cards. You can easily specify fixed or free value option for each gift card.
c. Delivery options The gift card can be delivered online or offline by post. This is based on the type i.e. whether it is virtual, physical or a combined product.
d. Checkout activation The gift card is activated during the checkout process. All you need to do is to enter the validation code in the gift card field.
Conclusion
There you have it – 7 must-have Magento 2 extensions to help increase your sales in 2018. It is time to start using them on your Magento 2 web store. What other extensions do you use on your store? Share with us in the comment section below.