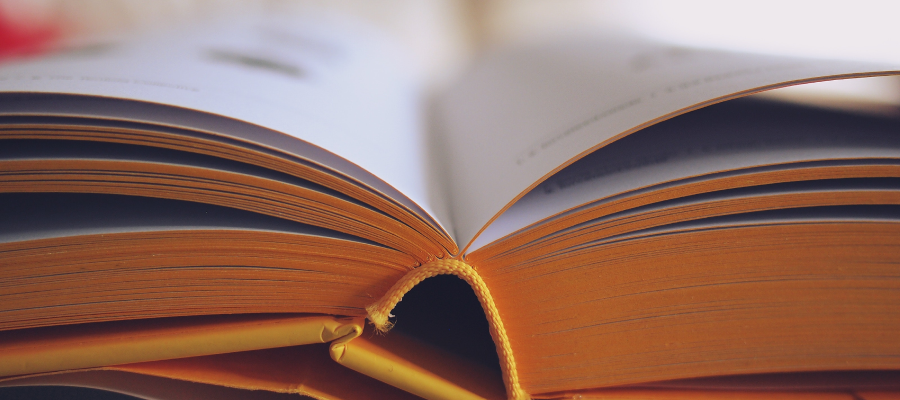 Magento 2 is a trusted e-commerce software and platform all around the world. It offers a full-featured website with little effort. That is the reason why many popular brands such as Byredo, Rubie's, Case-mate, Lara Bohinc, etc are using it.
Magento 2 offers numerous benefits such as:
Improved marketplace
Improved checkout
Easy integration with Google Tag Manager
Customizable data grids in admin
Built-in full page caching
Streamlined product and attribute configuration
Fully-responsive web design, etc.
That is not all. Magento 2 has top extensions that make e-commerce store management a breeze, such as payment extensions like Realex payment, Elavon payment, PagSeguro payment, Converge payment etc.
The truth is, Magento 2 has come to stay. It is the future because it contains valuable features which makes it the best platform for e-commerce. If you know Magento 1, it is easy for you to quickly learn it. Even if you don't know Magento 1, the courses and resources below will help you out.
The thing is, why do you want to pay hundreds, if not thousands of dollars to learn Magento 2 when you can receive high quality, interactive, web-based Magento training at a fraction of the cost?
Below are excellent courses and training resources that will enable you to learn Magento 2.
1. Building Payment Integration in Magento 2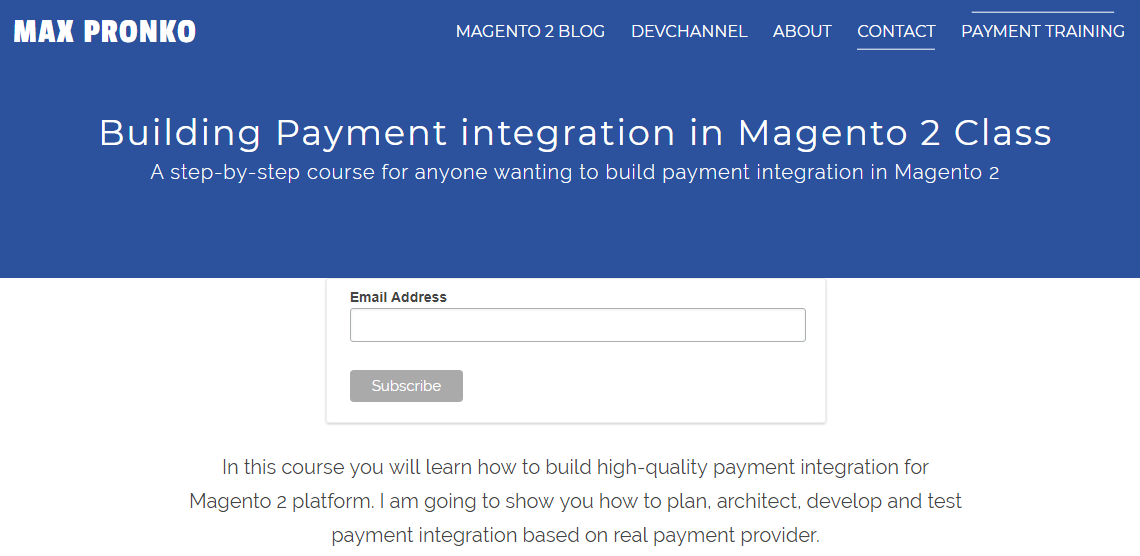 This course is a step by step training on how you can build payment integration in Magento 2. It is developed by Pronko Consulting Team who has built notable Magento payment extensions such as Realex payment, Elavon payment, PagSeguro payment, Converge payment etc.
The course teaches how to build high-quality payment integration for Magento 2 platform. At the end of the course, you will be able to plan, architect, develop and test payment integration based on real payment provider.
The course contains 10 modules:
Introduction
Building a simple payment integration
Building payment integration with a redirect to a payment website
Building transparent payment integration
Building additional payment features
Adding 3D Secure support
Adding Credit Card support
Adding Fraud checks support
Building advanced reporting
Wrapping up
The good thing about the course is that you get to watch the first few introduction videos for free.
2. Magento Devchannel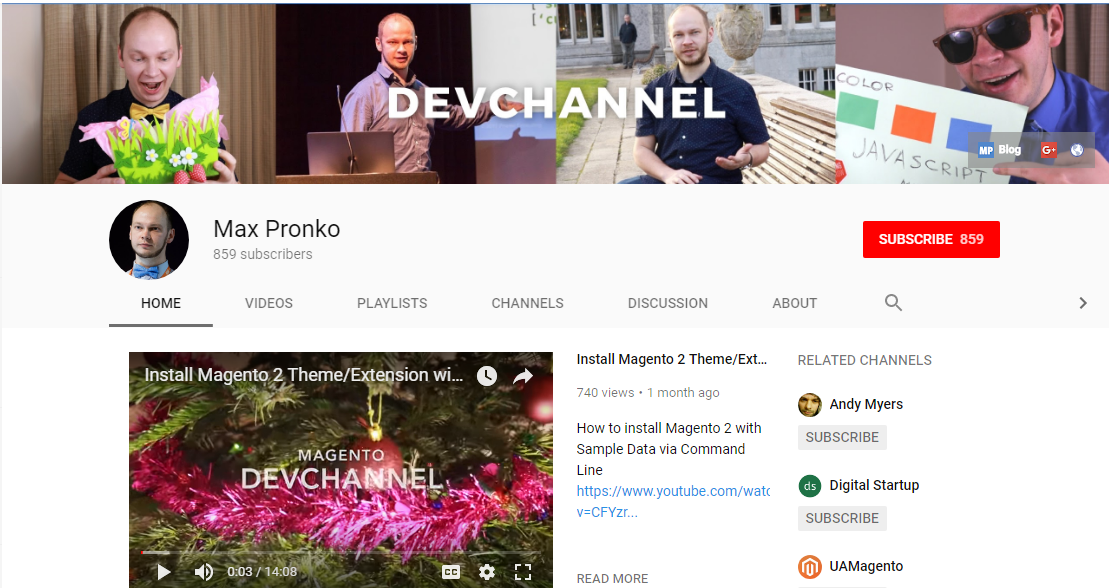 The Magento Devchannel is a YouTube video channel where you can learn Magento 2 for free. It is owned by Max Pronko and it contains several episodes, such as:
Above are resources that will further broaden your knowledge about Magento 2. The Magento Devchannel is updated every week and you can subscribe to the Magento Devchannel YouTube to get fresh tutorials every week.
3. Fundamentals of Magento 2 Development (On-Demand)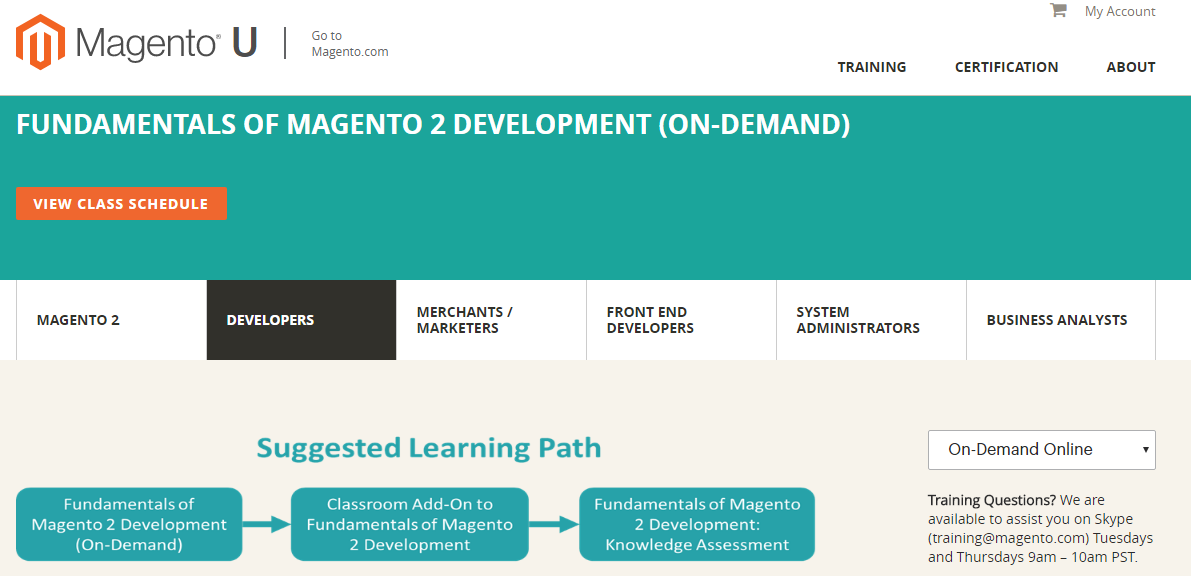 The Fundamentals of Magento 2 Development course introduce developers to the Magento 2 Platform. The course is designed for developers who want to build skills in working with the new Magento 2 architecture, terminology and core functionality.
At the end of the course, students will be able to know the terminology and core functionality of Magento 2, learn to set up new modules and new configuration variables, be familiar with Magento 2 customization techniques such as plugins, interceptors, and observers, create custom controllers, override controller action and carry out basic operations and layouts.
The course is made of up six units:
Preparation and configuration
Request flow
Rendering
Database
Service contracts
AdminHTML
Each unit takes 6-8 hours to complete.
4. Magento 2 Open Source - Merchant Training Boot Camp - 3 days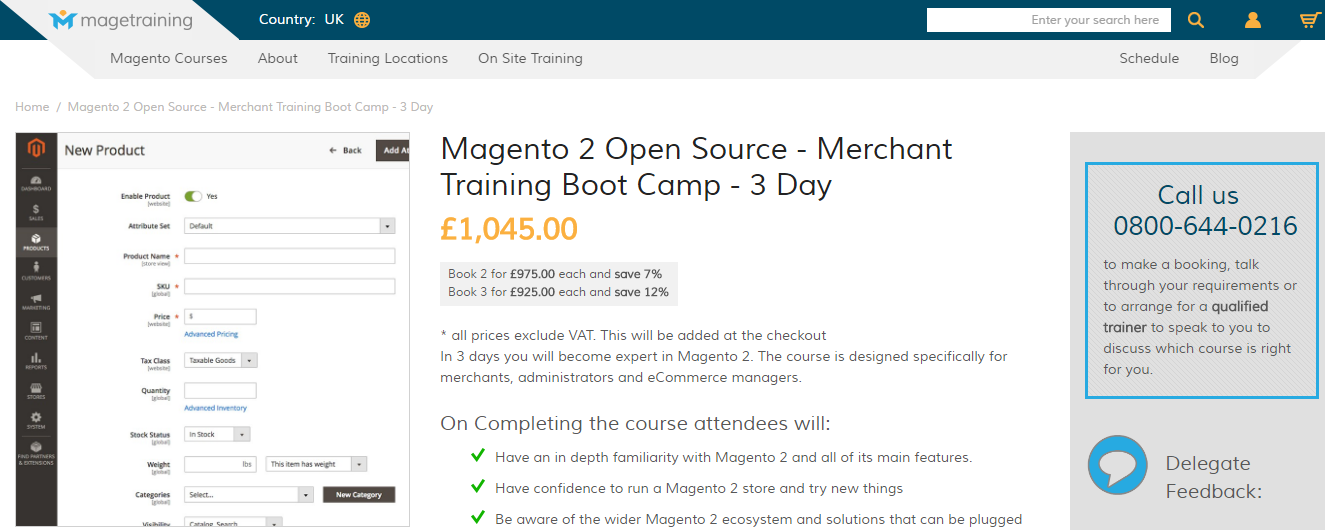 The Magento 2 boot camp is a three-day boot camp training that will help you to build your knowledge and experience in Magento 2 e-commerce system. The course is based on Magento 2 open source.
It is specifically designed for administrators, merchants and e-commerce managers who would like to know how to minimize the need for support from their developers. The course can prepare you for the Magento Certified Solution Specialist exam.
It covers:
The overview of the Magento catalogue
Creating and managing attributes and attribute sets
Creating and managing store products
Managing categories
Using spreadsheets
Customer service and order processing
Telephone/offline orders
Customer information
The content management system (CMS)
Transactional emails
Marketing tools within Magento
Search engine optimization for Magento
Running multiple websites, languages, and currencies from one Magento installation
The course is delivered through a workshop and practical exercises to make sure you receive the exposure and knowledge of Magento 2 system during the training.
At the end of the course, you should:
Have a deep understanding of Magento 2 and its features
Be confident enough to run a Magento 2 store
Know the depth of Magento 2 ecosystem and solution that can be plugged into your store
Streamline the administration processes
Implement processes that improve efficiency and reduce human error
Become an expert Magento user
5. Magento Developer Training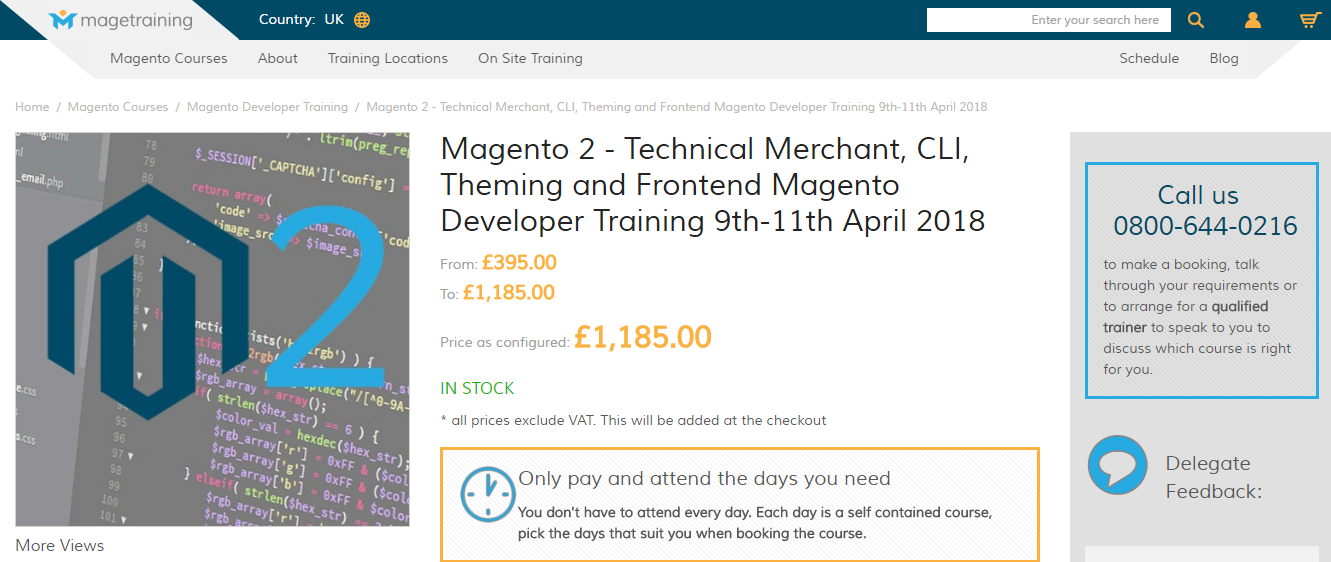 The Magento 2 - Technical merchant, CLI, Theming, and Frontend Magento Developer Training is a three-day course (i.e. from 9th - 11th April 2018). It is specifically designed for people who want to go into coding and implementation aspect of Magento 2.
The first day is for Magento 2 command line (CLI) training, Day 2 is for Theming training for Magento 2 (XML and PHTML) and Day 3 is for Theming training on JavaScript.
If you are aspiring to be a fully qualified Magento 2 frontend developer, then, this course is for you.
Conclusion
Above are the six best courses and resources for you to quickly master Magento 2. They are designed for individuals, developers, administrators, merchants and e-commerce managers.
It is time for you to learn Magento 2.