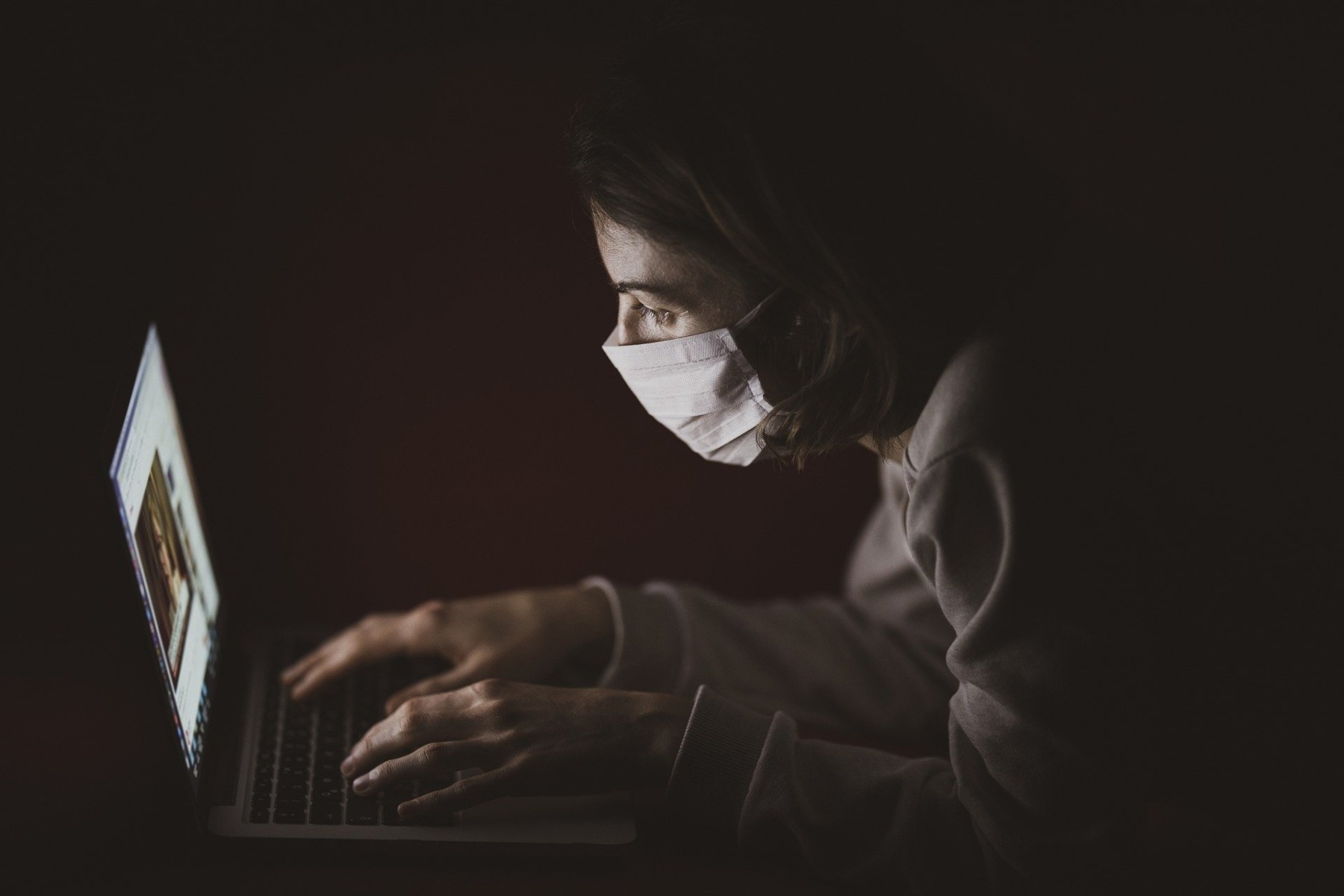 2020 showed that the most brilliant planning can go out the window in a matter of weeks. The world now lives through something that has never happened before with a global quarantine and countries locked down within their borders.
As a retail business trying to stay afloat in these uncertain times, you should take into account the following factors:
Your customers now have much more time on their hands

At the same time, their income is very likely to have decreased

For the majority of people, lifestyle priorities have changed in a totally unprecedented manner
The statistics reflect these observations, too. There is a significant increase in grocery and tech retail sales while luxury items and entertainment obviously suffer. This trend is easy to explain - while the peoples' income is shrinking, they shop for the most necessary goods. At the same time, being uncertain of their future, they prefer to stock up on food and household items to keep them through the crisis (the famous toilet paper craze is a perfect example).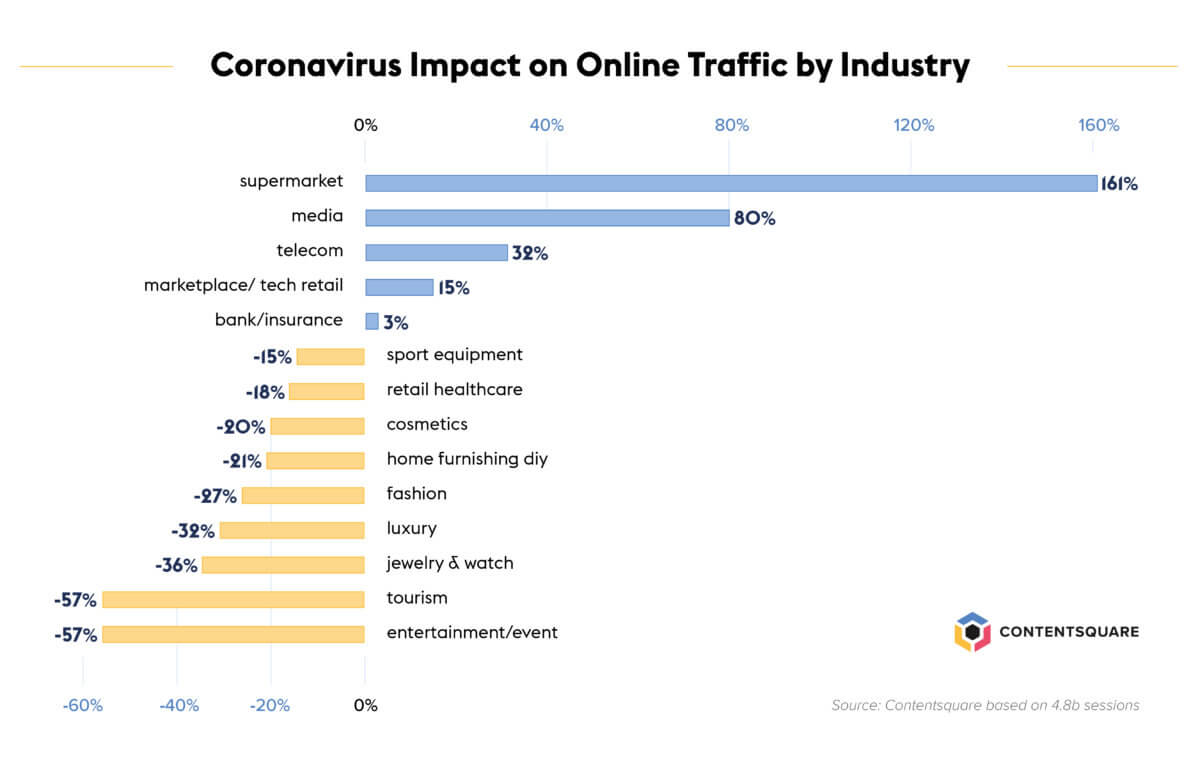 Image credit: https://contentsquare.com/blog/impact-of-coronavirus-on-ecommerce-consumers-settle-into-quarantine/
While the COVID-19 outbreak is a challenge for everyone, retail commerce is among the industries that have been hit the hardest. What can you as a merchant do to maintain your business and even - who knows? - increase your revenues? We have put together a list of recommendations that can help you regroup and hold your head above water until the crisis passes.
#0. Get online
Yes, the numbering is right. This recommendation was valid even before we even heard of the COVID. If for some reason, you still have no online store, it is high time you get one. Your brick-and-mortar facilities are very likely to be on hold now, so choose a reliable eCommerce platform (we suggest that you consider Magento) and take your retail business online.
#1. Optimize your web store
Despite the fact that your customers may have more free time, the general anxiety may make them less patient with slow-loading websites. Besides, with their shopping options reduced mostly to online, they are more likely to try your competitors if your online store performance is not up to their expectations.
How can you optimize? There are several techniques that can help you boost your website speed and performance:
Upgrade your tools to the latest version

Enable caching

Check whether you actually need all features and functions that your software offers and disable those that you are not using

Check the size of images and reduce it, if possible
#2 Consider implementing checkout without creating an account
Of course, customer accounts are an excellent source of leads and a database for your email marketing. However, the requirement to create an account is among the most frequent reasons for cart abandonment - some researches show that as many as 34% of customers prefer to leave without completing the purchase if they are requested to sign up.
At these times, it's better to sacrifice email collection in favor of better customer experiences and a higher conversion rate. Update your checkout process to exclude the mandatory account creation, and you might notice an increase in sales.
#3 Keep your web store information up to date
Keeping your data updated should be your routine practice at any time, but now, when customer attention has shifted towards online shopping, it is especially important to check that everything is correct. Update prices, conditions, stock availability, special offers as soon as the new data arrives.
Pay particular attention to your delivery terms and estimated dates. Today, the transportation and delivery industry is suffering from the lockdown-related restrictions, and your deliveries may be delayed. Take this into account when confirming your customers' orders.
#4 Introduce special conditions and offers
Although you are aiming at higher revenues, such techniques can actually be to your benefit. Think of reducing delivery costs or even making it free. Even with the COVID out of the equation, high delivery costs are the top reason for cart abandonment. Now when the customers' options are dramatically reduced, they might tend to choose merchants offering free or cheaper delivery.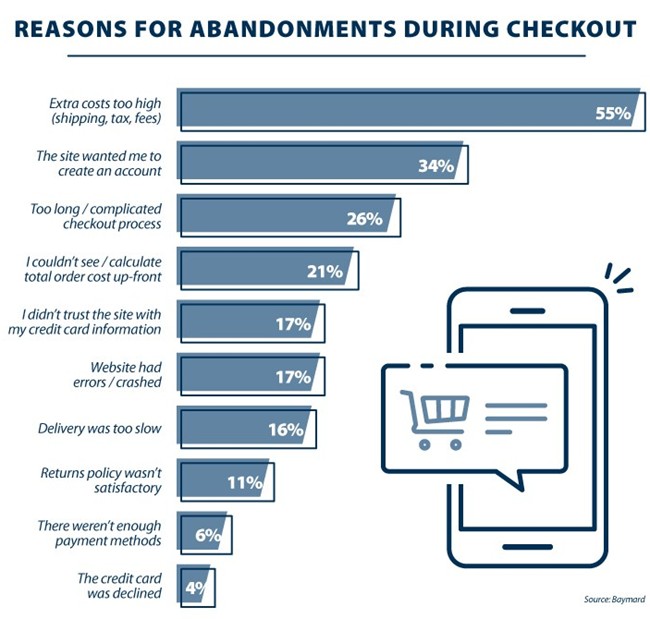 Image credit: https://www.marketingprofs.com/articles/2019/42235/overcoming-the-top-7-reasons-for-shopping-cart-abandonment
Otherwise, consider introducing discounts, adding bonus items to the purchase, offering more loyalty points per order. A good practice may be rethinking your return and exchange policies - customers now have fewer possibilities to try things before purchasing, thus, you may expect a higher return rate. Try to make it comfortable for customers - and they will surely appreciate it!
#5 Increase your social media presence
Go where your customers are. Today, the majority of them are online. Facebook, for example, witnesses a record usage peak. Use it to your advantage by launching engaging SMM campaigns.
To achieve maximum effect, make sure you implement marketing tools that allow you to target your advertising better and track conversions resulting from your social media activity.
#6 Look forward to normal operation
The pandemic will be over. The world will gradually return to a normal existence. It will, probably, never be the same as before, as too many values, procedures, concepts, and rules have been reconsidered and reevaluated. Still, the world will go on, and you need to make sure there is a place for you in it.
Be as flexible and adaptive as you can. Prepare to embrace the change, adopt new technologies, adjust your ways of working. Monitor your industry and follow experts and opinion leaders to stay aware of everything that is happening around you. Use this temporary lull to learn new skills that will help you emerge the winner on the other side of the crisis.
There is a tale that the Chinese word for "crisis" also means "opportunity". While this is not true, the concept itself is very inspiring. With a positive approach, you will surely weather the storm and remain strong.