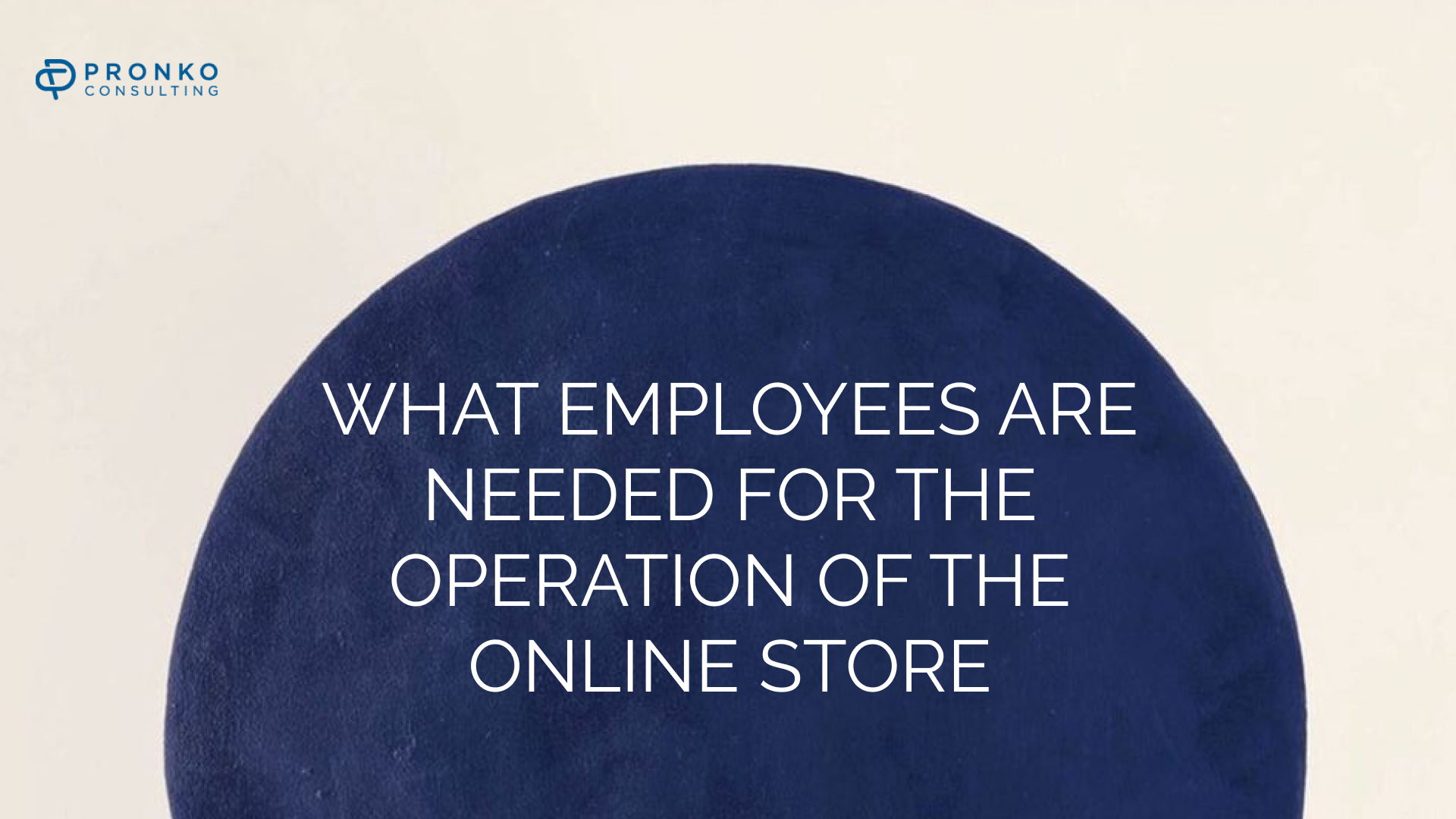 Any business in the growth process is faced with the need to attract additional labor. When launching an online store, you can usually handle the main functions on your own, but at some point, success does not allow you to continue working alone. There are more orders, new suppliers, competition requires expanding the range, improving service, reaching a new level of communication with customers, etc. Do you need a professional team to develop your online store further?
Congratulations, and tell you what employees are needed to run a larger online trading project, how to interact with them, and where it is better to look for specialists.
What staff is needed for an online store: we delegate the company's primary functions.
Sales Manager - customer acquisition, sales development
When asked what employees are needed in an online store, most of us come to mind precisely these specialists. A lot depends on how experienced and skillful a sales manager is. It is the main face of the trading company because it is with him that potential buyers communicate.
Job responsibilities and required skills may vary from business to business but typically include:
- Search for clients and maintenance of the client base;
- knowledge of the range and characteristics of products;
- processing of online orders, incoming calls, messages, and email requests;
- use of methods of active sales;
- assistance in choosing goods and consultations;
- work on increasing the average order;
- filling CRM systems;
- after-sales service;
- participation in the preparation and implementation of the sales plan;
- formation of reputation and favorable image of the company in the eyes of the client.
The sales manager's income usually directly depends on the results of his work. It allows you to motivate employees to the highest quality indicators and increase sales.
Courier - delivery of orders, acceptance of payments
Another representative of the online store communicates directly with customers. How the company looks in customers' eyes depends on the quality of its work.
Job Responsibilities and Skills:
- timely delivery of orders;
- registration of documents;
- Acceptance of payment (in cash or using a terminal);
- control over the goods received at the warehouse;
- careful attitude to delivered orders;
- ability to communicate with people, personal charm;
- drawing attention to other company products is an absolute advantage for the business.
Often, order delivery functions are transferred on a contractual basis to transport companies or third-party courier services. This option is ideal if the online store delivers goods to different regions and usually organizes its delivery service to deliver goods within the same locality.
Learn more: Ten types of trigger emails and an email marketing strategy for online stores
Marketer - business development and attracting the target audience
An Internet marketer is responsible for attracting and retaining customers by implementing various marketing solutions. The result of the excellent work of a specialist is a constant increase in the number of sales.
Job Responsibilities and Skills:
- development of the company's advertising policy: targeting, contextual and other types of online and offline advertising;
- building an SEO promotion strategy and its implementation;
- participation in SMM promotion;
- promotion of goods on external sites; content marketing.
Small online stores usually assign these and some related functions to one employee. In larger projects, narrow specialists are involved: programmers, SEO specialists, SMM marketers, target specialists, etc.
Content manager - website content
Content is playing an increasingly important role in SEO. Selling product cards, valuable articles, and effective mailings by email and messengers require creating a solid content strategy. Without it, it is impossible to compete seriously in the commercial market.
Job Responsibilities and Skills of a Content Manager:
- development and implementation of the content strategy;
- creating content and organizing the work of copywriters;
- formation of the company's reputation;
- control over updating of published information;
- cooperation with designers, photographers, camera operators, and other employees working with different types of content.
Purchasing manager - assortment formation and work with suppliers
The employee holding this position is responsible for filling the online store and all processes related to this function.
Job Responsibilities and Skills:
- selection of suppliers and work with them;
- formation and expansion of the range by the subject and business niche;
- negotiating and creating the most favorable terms of supply;
- timely replenishment of the store's warehouse, if available;
- control over the quality of dropshipping;
- control over the quality of goods and the fulfillment of deliveries;
- documentary support of procurement activities.
At first, when the number of suppliers and types of goods is calculated in units, the project owner deals with this task. Later, it is difficult to keep track of the supply and development of the assortment, so it is necessary to involve a professional "buyer."
Learn more: Track the activity of user administrators in the online store with one service!
Accountant - accounting, financial reporting, taxation
The first sales can be made through online accounting services and banking products to support small businesses. When the company begins to expand, it will be complicated to do without an accounting specialist. Interaction with personnel, purchases, taxes, etc., require careful and professional processing.
Job Responsibilities and Skills:
- choice of taxation system;
- timely submission of reports;
- personnel accounting; calculation and payroll;
- document flow (waybills, cashier's checks, etc.);
- Tracking changes in legislation related to doing business.
Recently, accounting support functions for an online business have been increasingly transferred to the jurisdiction of specialized companies under an outsourcing agreement. Sometimes, it is more convenient, safer, and more economical than keeping the accounting department in the state.
Any business at some point requires separation of duties and delegation of some functions. If you want the online store to grow and bring more profit, you need to distribute some of the tasks to individual specialists. It is done gradually as the company develops.