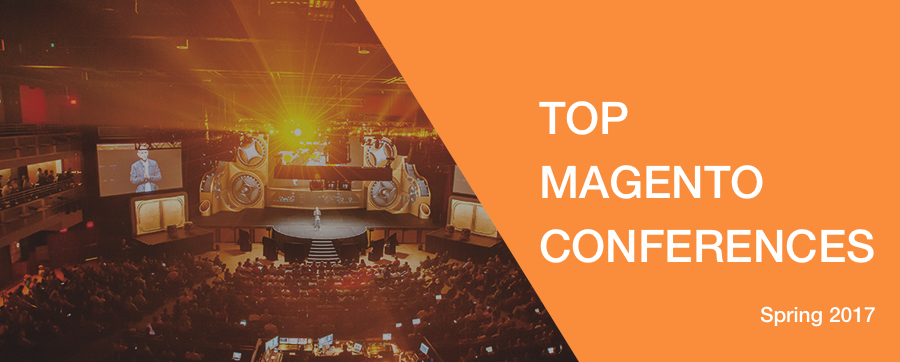 Looking for incredible Magento events? All over the world you will find hundreds of eCommerce events. We have selected for you top 5 of the most amazing spring Magento conferences in Europe and USA. Discover Meet Magento Italy, Meet Magento Croatia, Magento Imagine, Meet Magento Germany and Meet Magento Sweden.
Meet Magento Italy
When: 2-3 March, 2017
Where: Milan, Italy
400 attendees are expected at this Magento community event, produced by Webformat. The two learning tracks at the event will focus on the latest in technology and business.
For two days, the best developers, merchants, service providers and community members, will have the opportunity to participate in conferences, to exchange know-how and get in touch with the best opinion-leaders and other players of Magento and eCommerce in the regional ecosystem.
Afterwards Webformat organizes a unique and exclusive event dedicated to all the participants of Meet Magento Italy. On Saturday, March 4th you will spend a whole day in the Ferrari world: visit the Enzo Ferrari Museum in Modena and the Ferrari Museum in Maranello. Also you will enjoy the panoramic guided tour along the Viale Enzo Ferrari inside the area of the factory.
Hurry up and book your place for this exclusive event!
Meet Magento Croatia
When: 17-18 March, 2017
Where: Osijek, Croatia
Meet Magento Croatia is the new addition to the global family of more than 20 international Meet Magento events taking place all over the world. From United States all the way to Japan, agencies, merchants and developers gather to discuss ideas and best practices from the Magento world.
For the first time ever, you have a chance to participate in an event tailored specifically to the needs of the Croatian eCommerce market. Learn everything you need to know about eCommerce trends and the way Magento can help your business thrive.
Make sure that you secure your ticket early enough so you can start planning your Croatian Magento experience!
Magento Imagine
When: 3-5 April, 2017
Where: Las Vegas, USA
Six years ago, Magento Imagine started with a grand vision: to connect the international commerce ecosystem. Today, the event brings together over 2,500 commerce experts including merchants, agencies, and technology providers from over 45 countries. At Imagine, you can get inspired and educated, while collaborating and having fun.
Imagine creates insightful and inspiring presentations from the world's brightest experts and visionaries. At Imagine, Magento executives reveal the company's latest strategic directions. Be first to discover new platform developments and solutions. Learn how to maximize your investment and explore the unlimited possibilities of commerce.
Come to Imagine and enjoy three engaging days of informative session and networking events designed to help you develop your business. Experience best practice presentations from Magento platform users who have experienced success. Learn from real-world case studies, and take part in skilled training or one-on-one consulting.
You can even discover new products in Sponsor Marketplace. Check out Agenda to see the diverse sessions available.
As the premier Magento conference, Imagine unites senior executives, marketers, merchandisers, developers, and commerce visionaries. At Imagine, they share expert advice and exchange the latest ideas, technologies, and strategies to help you transform commerce.
You'll have the chance to build relationships and drive partnerships by collaborating on original ideas and strategies with the industry's leading innovators.
Don't forget the fun! Networking with an open and engaging community is a priority at Imagine. There will be engaging events throughout the week, and at night, poolside entertainment at the Wynn Las Vegas for Opening Night and Legendary Evening Events.
Meet Magento Germany
When: 22-23 May, 2017
Where: Leipzig, Germany
600 attendees are expected at this Magento community event, produced by NetResearch. The two learning tracks at the event will focus on the latest in technology and business. Be part of the biggest eCommerce event with focus on the Magento shop system in Germany and of an event-series that is organized in more than 40 countries worldwide, including Argentina, Vietnam, Japan, Indonesia and USA.
Meet Magento Germany is one of the first and most advanced Meet Magento events ever. This year it will take place for the 11th time with more than 700 visitors, including the key-players from the eCommerce and Magento fields.
Online retailers, system integrators, decision makers and opinion leaders as well as developers and online agencies - they all are part of this unique concept in Germany.
Meet Magento Germany offers the opportunity to discuss the most important topics in eCommerce and Magento business with enthusiastic experts and decision makers. B2C, B2B, ERP, PIM, CRM and internationalization are some of the focus topics in 2017. A special highlight of the event is the big aftershow party - the perfect place for informal conversations and networking.
Make new contacts, talk to international professionals and profit from an unique synergy effect!
Meet Magento Sweden
When: 30 May, 2017
Where: Stockholm, Sweden
The leading e-commerce conference has finally arrived to Sweden. It is organized by Nordic Web Team. Meet Magento Sweden will feature two learning tracks that will focus on Magento and the recent updated around eCommerce. 400 attendees are expected at this Magento community event.
There are going to be full day of interesting technical and business discussions, networking. At the end of the event there will be an After Party.
Meet the whole Magento ecosystem with Merchants, Magento Agencies, Magento service providers and international Magento community.
The event offers a unique opportunity to exchange knowledge and experiences with enthusiastic decision makers and experts according the approaching Magento and eCommerce.
Establish new contacts, discuss eCommerce trends and benefit from new Magento knowledge!