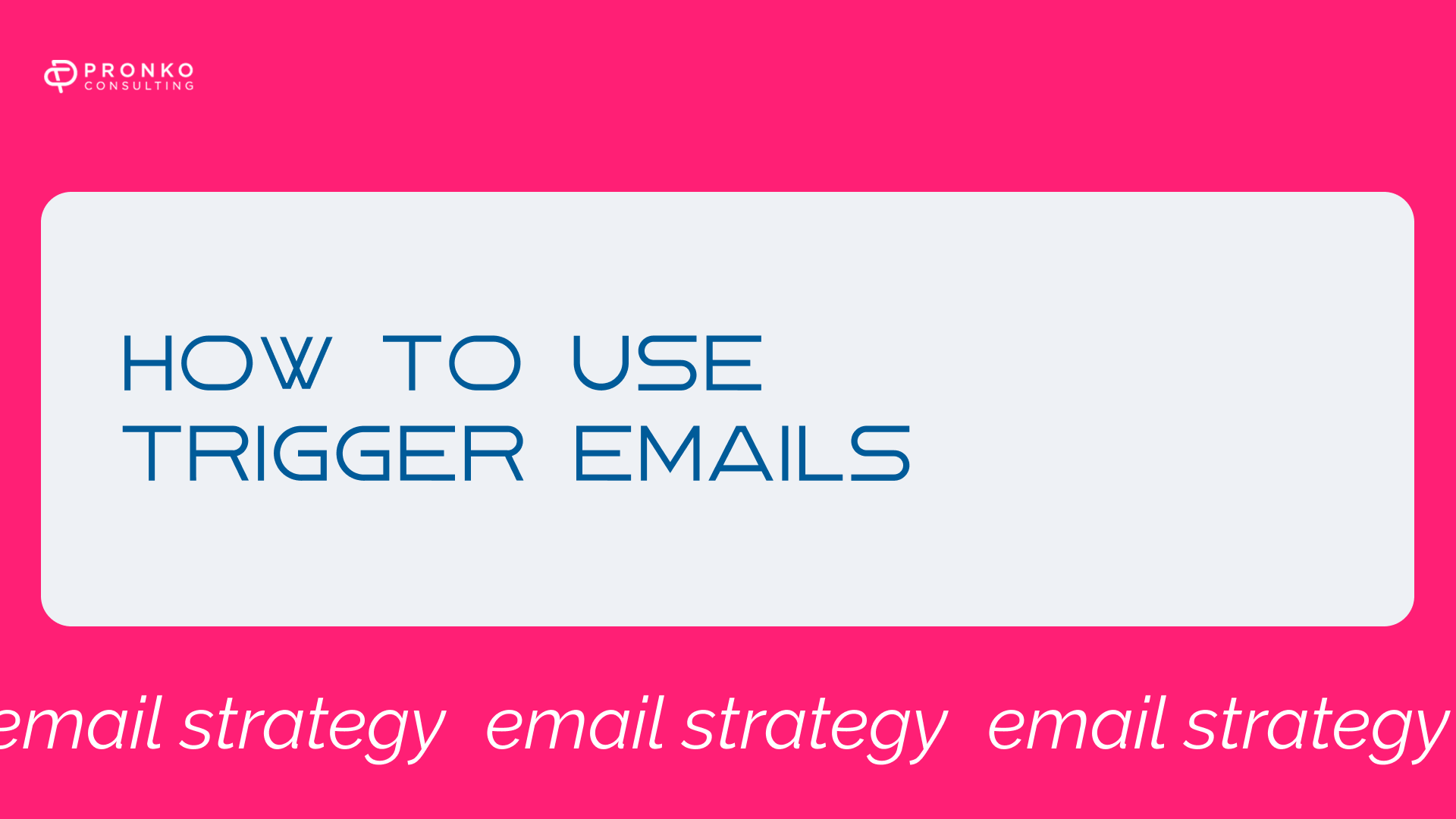 The constant increase in the client base and building long-term relationships with clients is the basis of the company's growth. Email marketing does an excellent job because its main task is to retain regular customers and build loyalty among new ones.
Email marketing strategy
Randomly sending letters is unlikely to give visible results. For email marketing to work effectively, you need to determine the company goals. When you want to achieve through this channel. The strategy includes:
specific achievable and measurable email KPIs + deadlines;

portrait of the target audience and segmentation of the base;

content plan - types and ratio of mailings, their frequency;

budget and team goals.
Analytics will help determine the effectiveness of mailings and strategies. It allows you to find out how much you have achieved your goals, see mistakes and correct further actions.
If you are at the stage of implementing email marketing, you need to choose a service for mailings. Often the built-in CMS functionality for an online store or CRM is not enough to fully implement the strategy. It is one thing to send automated messages, and quite another to have beautiful promo campaigns, omnichannel chains, and personalized content.
To get interested in base and not get into spam, you should set up digital signatures (SPF, DKIM, DMARC) that will ensure deliverability, validate contacts and prompt them to confirm the subscription. If the mailing is the first, you need to warm up - send a limited number of messages with equal frequency. Otherwise, follow the next steps.
Segment your audience
It is unproductive to do one mailing to the entire audience when it is relevant only to the group. Segmentation allows you to minimize the cost of sending irrelevant messages, reduce unsubscribes and increase user engagement. For example, when you send letters only from those categories for which the person subscribed himself.
Some mailing services have a feature of segmentation by events, which is especially relevant for online stores. It is an opportunity to make any customer action on the site the basis for building a segment: clicking on a button, previewing an image, etc. The act goes to the system as an event. You can use these parameters for subsequent segmentation: brand, size, package volume, date purchases (for upgradable products) - everything that matters in your business.
In addition, you can build a segment based on time and sequence of actions based on a combination of events: the number of orders in the current month, the average purchase ticket in a category over a certain period, etc. It allows you to create targeted advertising campaigns to get more purchases and customer loyalty.
Personalize your newsletters
Compared to general, personalized mailings increase revenue by 18 times. For example, you can use subscriber location information to populate their favorite/new store address, make local offers, and send in purchase/browsing histories unique to each contact.
There is also deeper personalization using artificial intelligence to create personalized product recommendations: algorithms analyze user behavior - transitions between pages on the site, visit time, actions in the basket, in mailing lists, offline, etc. It is the most effective way to communicate with the client because you offer him exactly what he wants.
Plan how often you send emails
To implement a content plan and not miss a send, you can set up an automatic launch of an email campaign at a specified time and date. But don't forget to consider time zones and business time, and you don't intrude on recipients' time.
If a user performs many actions that the system needs to respond to, and you still have mass mailings, it is crucial not to overload him with messages. To do this, you can set the level of anxiety or the priority of letters in the services and limit their number per period. Then the user will receive only the most important ones.
Some systems also allow you to set different email frequencies for many segments and calculate the best time to send by analyzing the interaction with the recipient.
Use omnichannel
Strengthen your marketing campaign with other means of communication with customers: SMS, web, and mobile pushes, and instant messengers. With the help of marketing automation systems, you can use them to convey messages and collect information. Different services work with many channels and look for those with whom you work more often and effectively.
What letters do an online store need
Online stores may use non-personalized and personalized mailings. The first will include new items, sales, and bestsellers. Let's talk about the second one in more detail.
Promotional emails
You can create an individual offer for the client based on current promotions. Personalized promotional mailings help increase website traffic and increase sales.
Trigger mailings
Automated response to user actions is the basis of email marketing in eCommerce. They are less likely to end up in spam.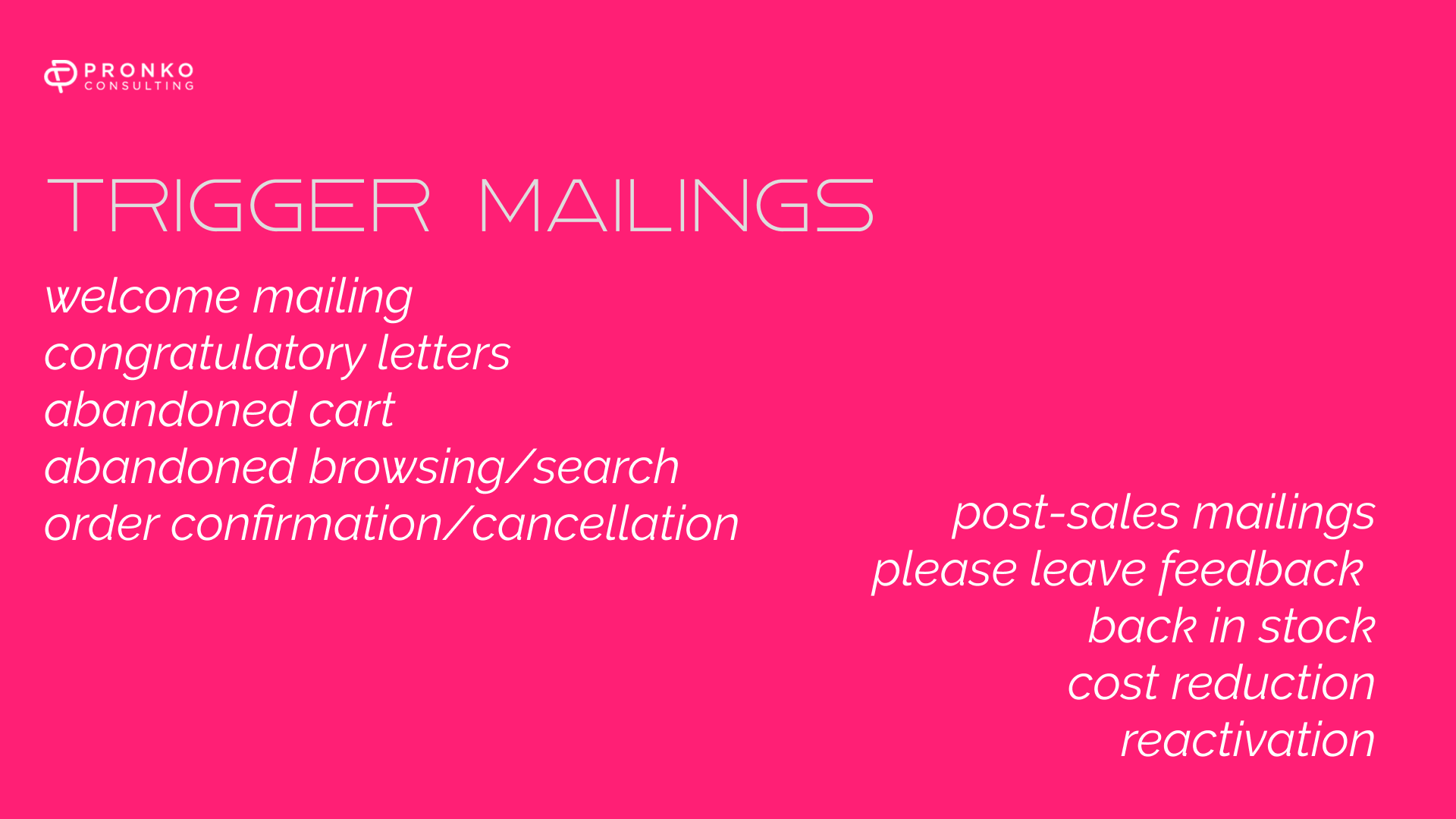 Welcome mailing
One or a series of messages which you can send:
thanking for choosing a store;

individual promotional code/subscription discount;

data for entering your account;

store benefits;

information about delivery, payment, and return;

contacts of a personal manager, nearest points;

links to social networks.
Congratulatory letters
The client's birthday and other holidays are great occasions to remind yourself. Give a gift to the recipient. You can do it with a discount or bonus and suggest what to spend them on.
Abandoned cart
Help remind the user about their desires and through encouragement to complete the purchase. Choose the right time to send messages: the best conversion for an abandoned cart (5.2%, according to SaleCycle) will be 20 minutes after the user leaves the site. The newsletter must contain the name and image of the product, as well as its cost. Additionally, you can:
Talk about the terms of delivery;

Offer a personalized time-limited discount;

Connect a block of related products that compliment or make the purchase more profitable when ordering with the main one.
Abandoned browsing/search
There are many reasons why the user did not put the item in the cart: he compared prices with competitors, got acquainted with the characteristics, did not find a suitable good, this one is out of stock, etc. You can send him a letter with the goods that he wants. And to increase the likelihood of a transition, add a selection of similar products.
Order confirmation/cancellation
As soon as the user has made an order, send him information about it, and specify the time and method of delivery. If the client cancels an order, notify the customer. Add recommendations that encourage the customer to return to you for other purchases. These may be positions viewed previously or relevant to his interests.
Post-sales mailings
When the client completes the order, you can send an email with thanks for the purchase and add a block of related products. The client bought a phone - make a selection of accessories for the purchased model.
Please leave feedback
When the buyer looks at the purchase, send an email with a description receiving a bonus for a review.
Back in stock
Notify the user that the item they previously viewed/added to the cart is back in stock. You can include personal recommendations for related products in the letter to increase the purchase price.
Cost reduction
You can use the following script:
Attach the message about a decrease in the cost of goods from your wishlist. The discount on goods from this category in the letter is a good idea.
Reactivation
Even the most ideal customers can stop visiting the site and opening emails. The purpose of the mailing is to restore the interest of the user. Highlight user segmentation criteria. For example: does not read the newsletter for three months, did not place an order for six months. Use RFM analysis and separate customers by activity. So, recency - is the date of the last purchase. Next, frequency is the total frequency of purchases. Finally, monetary is the amount of purchase. It shows the profitability of customers.
For most online stores, the following categories are distinguished: new, one-time, growing, lost, and VIP clients. This analysis allows you to assess the general state of the customer base and, most importantly, quickly respond to changes. For example, customers who have purchased for a long time are more prone to a new order than lost ones. When orders have a high monetary value for the company, classify as VIPs. Many systems have this tool and even the ability to automate the work with such groups.
It remains to make a personal discount for the client on the goods of interest, taking into account his status, and you will be able to save it in time.
Conclusions
Email marketing is an effective tool for long-term relationships with customers. Increase subscriber engagement, and increase sales. To bring maximum results, monitor actions, and competently respond to them.
To do this, use segmentation, automation, and personalization of mailings to connect to other communication channels. Then you can constantly analyze the mailing list and the overall email strategy.