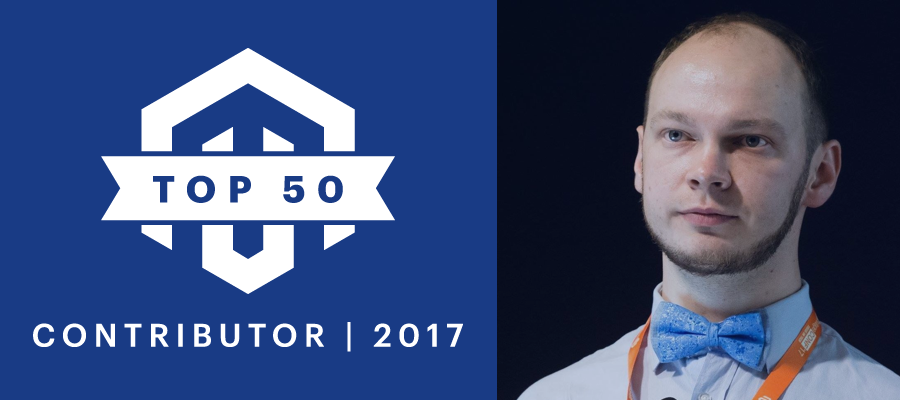 n 2017, the Magento community announced the Top 50 Magento Contributors chosen from 500k+ developers.
We are proud to reveal that our CEO Max Pronko has been named among the top 50 Magento Contributors in 2017. This is a great feat and it shows his readiness to contribute to the Magento community in any way he can.
Magento contributors are part of the people who contribute to the Magento community. They are actively helping to educate other members and developing valuable resources such as blog posts, documentation, forum content, etc.
Max is a well-known member of the Magento community contributing his knowledge through conferences such as MageTitansIT, Meet Magento, Magento Live UK, Imagine and MageConf; his blog and his Magento DevChannel youtube where he creates tutorial videos about the Magento platform features to help the community grow.
We caught up with our CEO, Max to ask him a few questions on the matter:
Hi Max, congratulations on the new status! What does becoming a Magento 'Contributor' mean to you?
I was actually surprised to be on the list of TOP 50 Magento Contributors. Personally, I don't think something will change in my desire to promote Magento platform among other developers and merchants.
You're not just a Contributor to the community but also within our team at Pronko Consulting. What do you enjoy most about your role?

Opportunity to learn new things in different areas. I enjoy working with the experienced development team on challenging projects. Apart from that, being a communicator between technical and non-technical people allows me to understand both sides.
Why is it important to contribute to the Magento Community?
For me, it is important because while I write a script for Magento DevChannel, a Blog Post on my personal Magento 2 Blog website, or even, a conference topic preparation I learn something. Every single time I have to double check code and what I am about to say. I am happy when at least one developer is inspired by my videos or learned a new cool development technique.

What advice do you have for people who want to contribute to the Magento community?
Contributions take an enormous amount of time. Make sure you have enough sleep and rest with your family, so you can dedicate yourself to something big as Magento. The number of followers won't make you happy at the end of the day. Your natural desire to contribute is a key.
What do you think is in store for the future of Magento Commerce?
I think Magento goes in the right direction with new technologies around PWA (Progressive Web Application), automation and personalization. More software as a service will appear in the nearest future to cover customer needs. As we all know, the time to market is crucial when it comes to developing new services and websites. It helps to get faster customer feedback on early stages and increase revenue streams.
Congratulations to our CEO Max Pronko and to all the other contributors in the Magento community for their hard work.