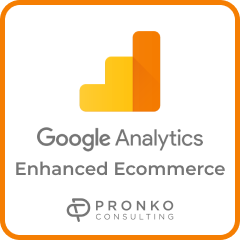 You are welcome to use a new Google Analytics Enhanced E-commerce extension that Pronko Consulting released on the Magento Marketplace. With this module, you are adding new features to your Google Analytics suite getting unique insights into your customer behavior trends and patterns.
Install Google Analytics Enhanced E-commerce and follow your customers' interactions with your website, gather and analyze various metrics, monitor conversions. With the data received through the Enhanced E-commerce module, you can understand why customers sometimes fail to convert and implement the necessary measures to improve your website experience and increase the conversion rate.
The new extension requires no special knowledge to install and configure. Multiple customization options allow you to set it up in accordance with your business goals. Make sure, however, that prior to installing Google Analytics Enhanced E-commerce you have Google Analytics and Google Tag Manager installed and configured.
To install the Google Analytics Enhanced E-commerce extension, visit the Magento Marketplace. In the event of any questions or issues, do not hesitate to contact us, our expert consultants will be happy to assist.