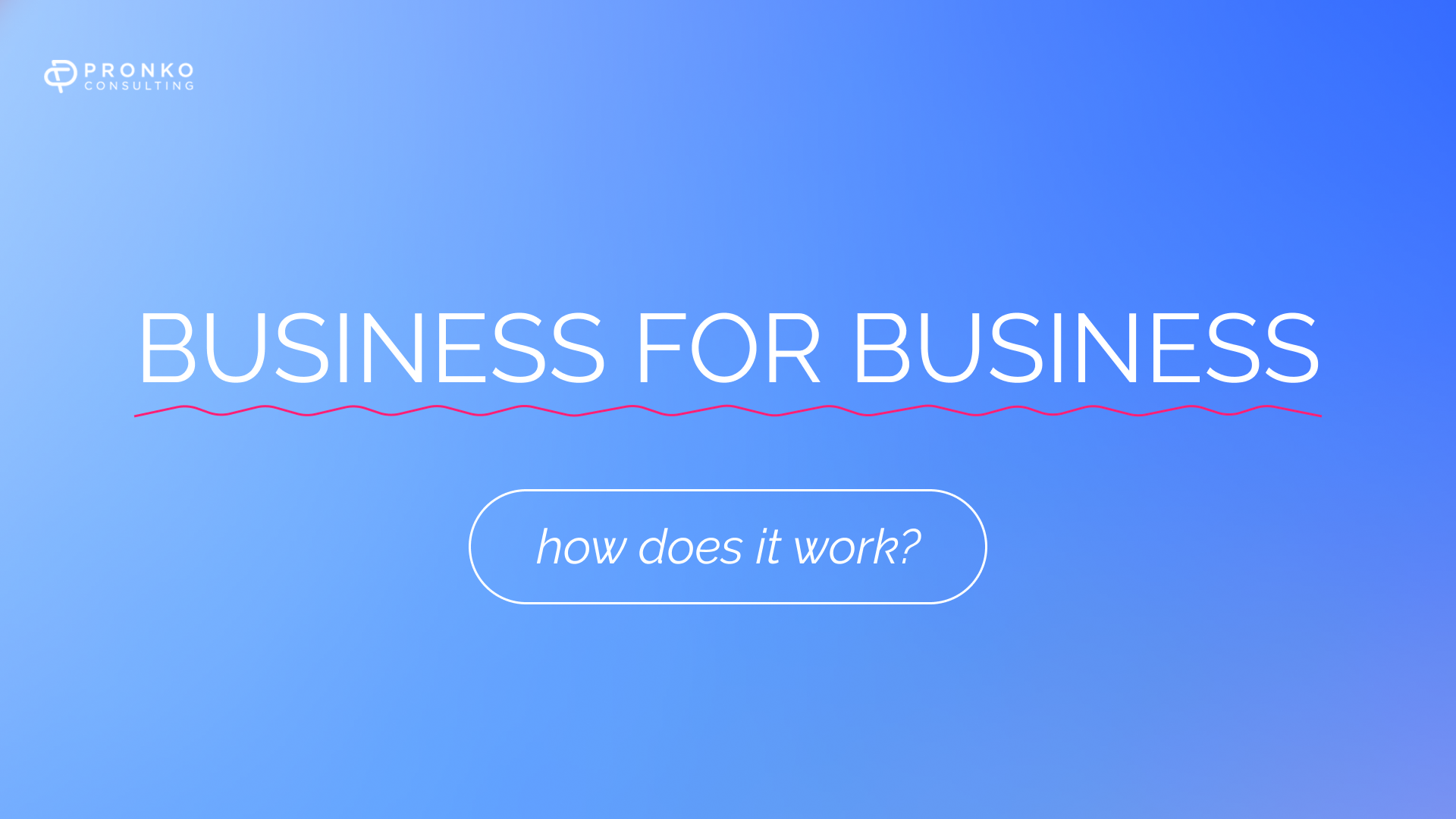 For any company's marketing to be effective, marketers must find a balance between strategic goals, creativity, communication channels, and sometimes a limited budget. However, the critical factor that determines the effectiveness of marketing is your audience. Depending on the specifics of the business, the approach to customers differs. For example, some companies serve individual customers, while others have entire enterprises as their customers.
Marketing to organizations is very different from marketing to individual consumers. What is B2B, how does B2B marketing differ from B2C, and how to correctly form a strategy for B2B - we will talk about this in more detail in the article.
What is B2B marketing?
B2B… If you've never come across this acronym, you might wonder what it means. B2B (business-to-business), translated from English, means "business for business." It is a commercial space where one business sells goods and services to another company rather than individuals.
The B2B marketing process is often described as a marketing funnel. The client sees an advertisement on the Internet, clicks on it, and gets to the site. If he is interested in the offer, he leaves his phone number on the website to be called back. Then the manager contacts the client clarifies the details, answers the questions, completes the application, and successfully closes the deal. It is what a perfect marketing funnel looks like, but it is often more and more complicated. Out of 100 potential customers, at best, ten will reach a purchase, let alone long-term cooperation.
Learn more: What is a universal financial plan for an online store?
Most B2B marketing funnels consist of the following steps:
Interest (application from the client).

Recognition of need.

The decision, evaluation of options.

Purchase.

Evaluation of the result (analysis of reviews, search for alternatives if necessary).

Delight/Disappointment as a final evaluation result.

Continuation of cooperation/Termination.

Shopping in B2B is not an emotional decision but a long-term and balanced one because the purchase requires a serious investment. Working with a business client is necessary at every stage. Because the decision-making cycle is long, there is a high probability of losing a customer if you do not constantly communicate with them and keep them interested.
How does B2B marketing differ from B2C?
B2B and B2C (business-to-consumer) marketing differ (see Table 1). Yes, B2B targets the needs, interests, and concerns of people who make purchases on behalf of their organization (rather than for themselves), thereby turning the organization into a customer. For them, the main goal is to find a solution that will be profitable from the point of view of investment to satisfy the needs of the company fully. At the same time, B2C (business-to-consumer) marketing is aimed at the needs, interests, and problems of individual consumers who buy goods or services for themselves, thus turning a person into a buyer. The client's goal is to find good deals, fill a need, and enjoy the purchase.
For the most part, B2B brands build longer-term relationships with the customer than B2C because the purchase decision is usually not made by one person but by a senior management group, board of directors, company owner, or CEO. It is essential for brands operating in the B2B market to build both knowledge and comprehensive relevance: reputation, technologies, and the ability to adapt to the specifics of a particular business.
Clients of B2B companies choose a business partner as rationally as possible, based on considerations of benefits for the company, and evaluate the advantages of cooperation for their business. In B2C marketing, customer decisions are often quick and impulsive, and personal preferences drive the choice between several products. B2B can make expensive sales with fewer customers than B2C.
Learn more: What is brand management, and why is it needed?
A product or service for a business cannot be cheap, at least because of the large scale of supply, and at most because of the high level of expertise and quality of the product. A B2B product is often high technology and expensive to manufacture. In addition, B2B may also have higher margins and less competition than B2C.
B2B marketing strategy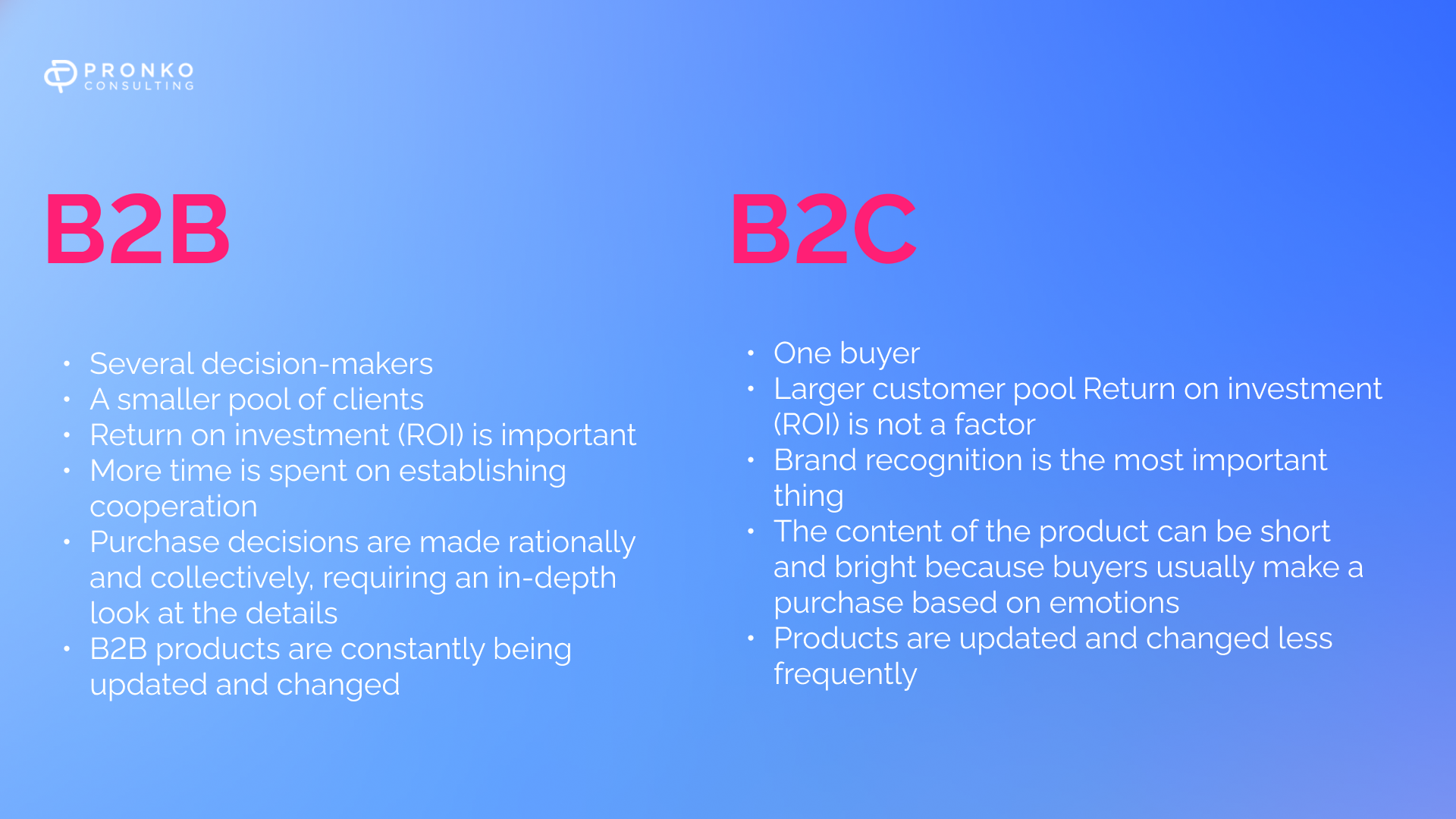 The following vital stages can be distinguished for the formation of a marketing strategy:
Define brand positioning.
To create an effective strategy, you need to understand your brand positioning: who, when, why, and how your brand identity is perceived or how your brand is perceived in the eyes of the buyer. Develop a compelling brand and product story that your team and potential customers will believe.
Study the market and discover how many competitors are in it, what they are selling, and what audience. Analyze their sales tactics and communication activity. After that, you can determine ways to create marketing content that will emphasize the uniqueness of your products and services. Market analysis helps you understand which customers are currently underserved. For example, you may find that several vendors in your market offer solutions designed for large enterprises, and only a few cater to small and medium-sized businesses (SMBs). Yes, you will be able to find gaps in the market and, taking advantage of the opportunity, close them. It will allow you to get more out of your marketing efforts.
Define the portrait of the target audience.
Find your target audience or those looking for your company's products or services. This information will help you create customer portraits and understand how they make purchasing decisions. It is essential to identify those interested in your offer carefully. Since the customer is an organization, the interested party is most often the product's end user. Also, consider the people who will make the final purchase decision and those who will evaluate the product.
For example, if a company sells SAAS services or software, it engages the IT department to evaluate functionality before launching a marketing campaign. It will help to understand how to advertise the product properly, form its reputation in the necessary segment, and convey its value to each of the representatives of the client's company.
Determine effective communication channels
The most crucial thing in B2B is a comprehensive communication approach between two businesses. It is necessary to involve various communication channels and cover all segments of the target audience as much as possible. For this, the following media are most often used:
Content marketing is one of the effective ways to attract new potential customers for the B2B segment. This channel involves running your blog and creating original articles, infographics, blog posts, guides, and eBooks. You can also create and share visual content, such as photos and videos. Content helps people learn more about your business, industry, and services and can position your company as an industry leader. Customers are most likely interested in your services if they read the helpful posts you've created.
Email marketing — according to the statistics of many studies, it is one of the most effective channels in B2B. There are many advantages to using email, including ease of implementation and cost-effectiveness. Writing a generic email and hoping for a successful outcome is not enough. Email marketing requires a well-thought-out strategy that includes competent content, detailed audience segmentation, and personalization.
Learn more: Ten types of trigger emails and an email marketing strategy for online stores
Search engine optimization (SEO) is a channel for increasing the ranking of a website in search results for keywords and phrases related to your business. For example, you can create and publish original content on the topic of your industry or product and add relevant keywords.
Events are conferences, exhibitions, webinars, discussion panels, and many other formats of business meetings. Thus, employees of different companies will be able to talk about themselves, exchange experience, evaluate the quality of products, and confirm their expertise and competence.
Podcasts are a channel that is becoming increasingly popular every year because it is an excellent opportunity to share your views with interested listeners. Since they have chosen an episode to listen to, they already want to hear your opinion a priori. A successful podcast is a conversation between friends, not a pushy pitch for a product or service. Podcasting shortens your sales cycle by reaching and engaging a highly qualified audience. The more B2B buyers trust you, the less uncertainty they have in the buying process.
Social networks are a marketing channel that is suitable for almost all companies. You can still engage with potential customers even if you only post a few times a week. Having a presence on social networks helps the company to be more accessible and your customers to be aware of the updates and offers of your business.
So, there are 6 B2B marketing channels in front of you. Where to start? According to B2B marketing experts, the following communication channels provide the best return on investment (ROI): email marketing (50%), search engine optimization SEO (43%), content marketing (34%), and events (32%). For your convenience, we have published a list of marketing tools that may be needed for promotional activities.
Analyze the results systematically.
To avoid launching marketing campaigns that most likely won't work, you should have a detailed plan for collecting and analyzing marketing data. Track how much you're spending on each movement, how many qualified leads it's generating, how long it takes to close deals, and which marketing efforts are accelerating the completion time. By collecting and analyzing such data consistently and comprehensively, you will be able to make the best decisions and determine how and where to conduct future campaigns.