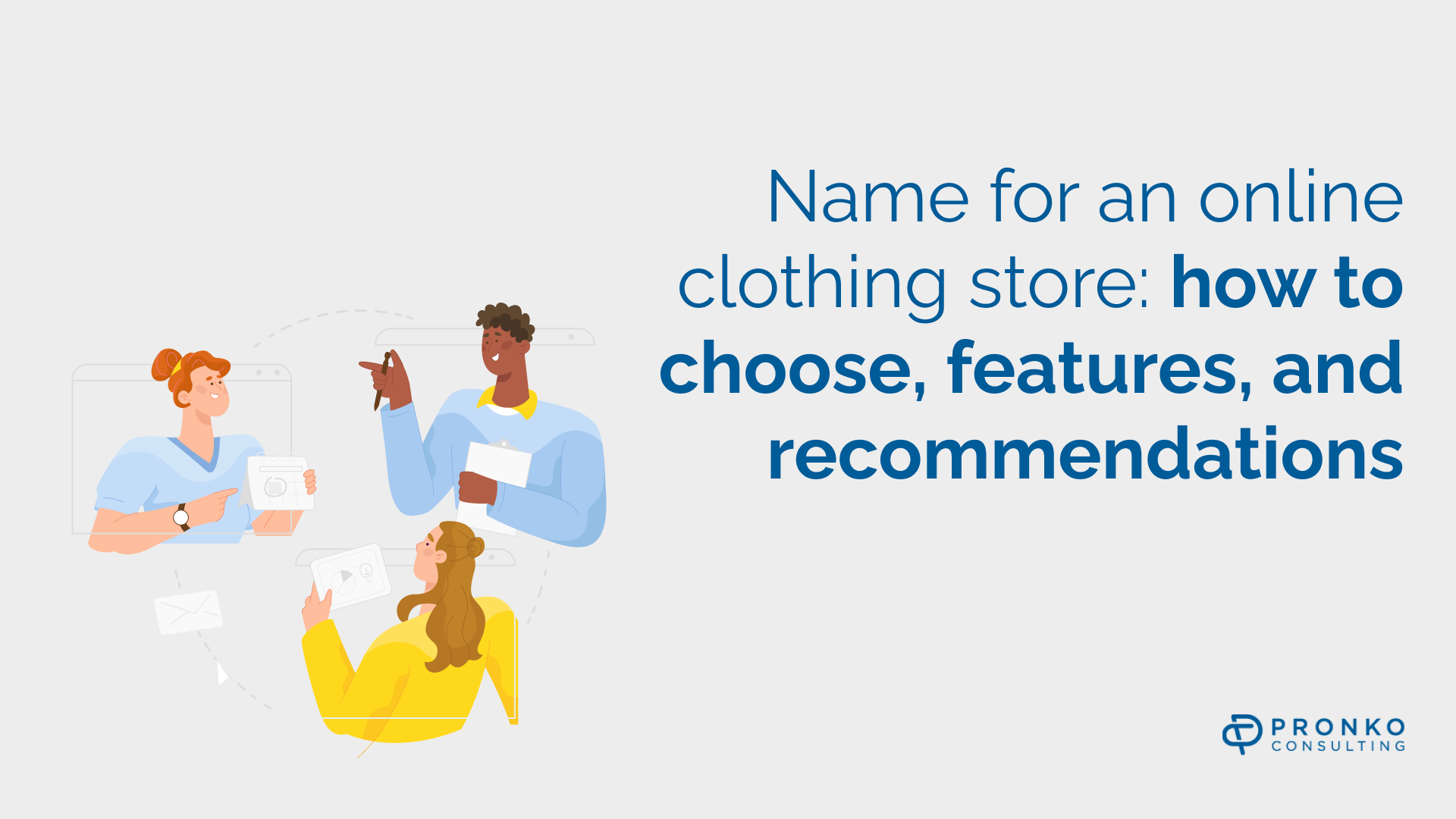 Starting the creation of an online store, you need to consider many points, including the name of the future business. A good reputation can become a pledge for the development of your brand. We will tell you how to choose an online clothing store name.
The main criteria for choosing a name for an online clothing store
Originality. Avoid overlap with other stores. Even if they sell in a different niche or are little known, the same name can take some of your traffic during the search.

Associativity. Choose a name associated with your store's clothing niche or target audience.

Lightness. In pursuit of originality, remember that the name must be remembered, which should not be made too sophisticated. Choose concise names consisting of one or two small words.

Readability. If you came up with a name in Cyrillic, you would have to use transliteration in the domain. Letters such as -u, -ts, -sh, -s, -zh will complicate the spelling of the name in Latin, so it is better to avoid them immediately.

Availability. Once you've come up with a name, make sure you can register a site with that name. The domain may already be taken, and naming the site and the store differently is not the best idea.
How to come up with a name for an online clothing store
Start your search for a name for an online store with terms related to clothing. It can be the name of a fabric, an item of clothing, or any other word used in the fashion world. Well-known online clothing stores Gepur and LeBoutique have chosen this path - their names are connected with the clothing theme and are easy to remember.
Common names can be made original by translating them into foreign languages. For an online clothing store, it can be not only English but Italian with French. Such names will look stylish and logical because Italy and France are the leading trendsetters.
Try not to use double names using the words "fashion" and fashion, such as "New Fashion." Such names are abused by clothing stores, making them gray and dull. In addition, we do not recommend using people's names as a title.
You can use the name generator if you run out of ideas and nothing works. These services create a name for your business according to the given criteria. Generators offer many options, and you have to choose the right one.
Services to choose the online store name
Oberlo
Oberlo's business name generator is a free resource you can use to find potential online store names for your business. Try to put a word you want to include in your shop name, and the tool will give you hundreds of creative online shop names to explore. Browse and choose the one you like, then register its .com domain.
FreshBooks
FreshBooks' name generator is a fun and interactive way to find a name for your online store. Click "Let's Get Started," the tool asks you to select your industry. According to your input, the tool will give you the best matches.
Anadea
Anadea's business name maker is a free tool that combines a topic or keyword with other words and modifiers to generate a list of business name suggestions. Start by thinking of a catchy phrase that describes your business, then enter it into the name generator field. Click "Generate names," and the tool will provide 24 unique online shop name ideas.
Namesmith
Namesmith's creative business name generator lets you add up to five keywords you'd like in your shop name. After you click Search, the algorithm will provide new words for your business idea (and domains) with exact keywords. The tool constructs a combination of words based on your keywords, messes with them extraordinarily, and creates excellent online store names.
When choosing a name, several subtleties need to be considered. The title should be original, accessible, light, and associative. You can come up with it on your own or with the help of name generators. We hope this article will help you name your online store, and this name will be heard by many.