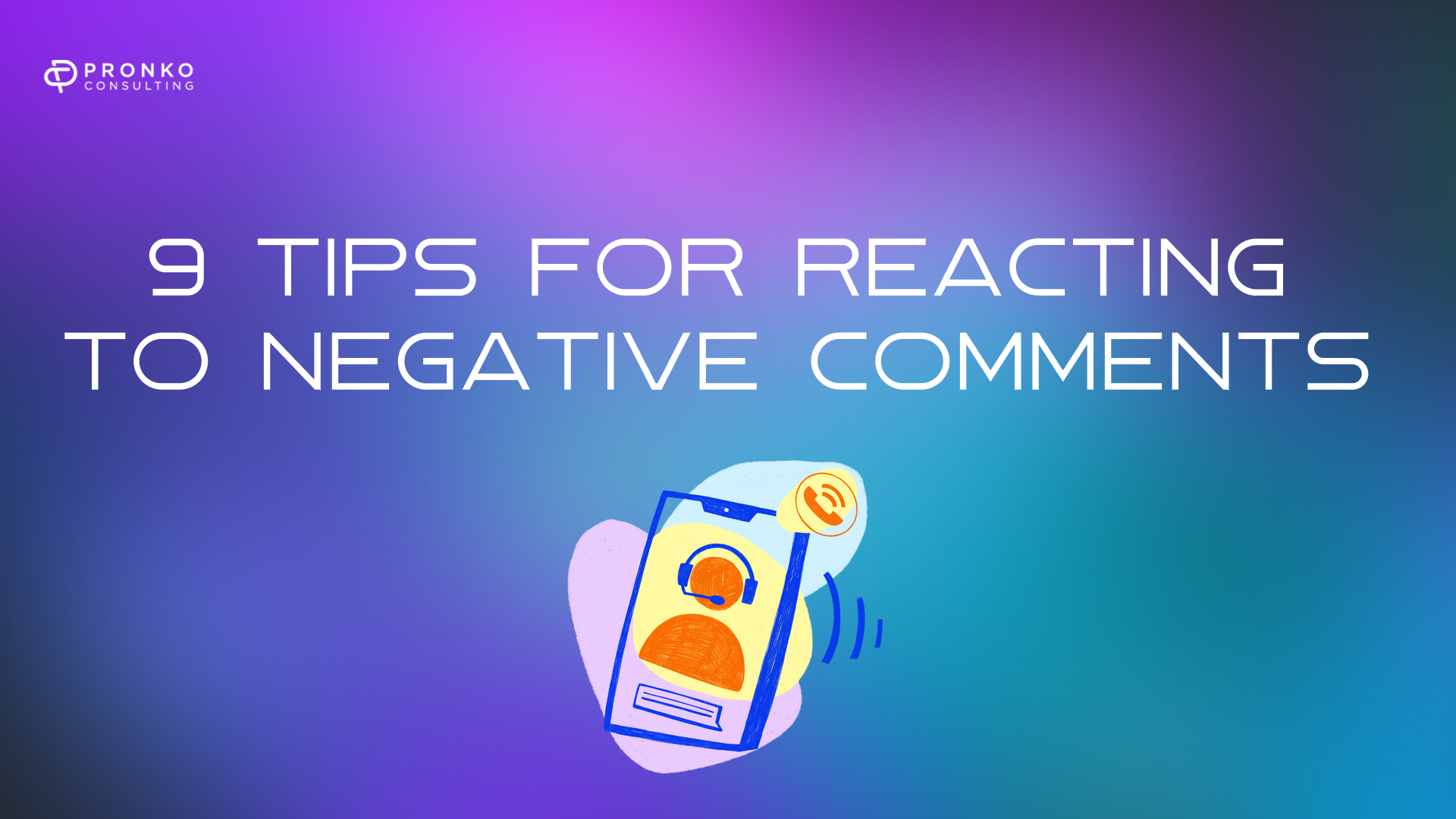 Business owners often fear negative reviews on the Internet like fire. In their opinion, the company's reputation must be impeccable, otherwise, customers will bypass it.
Actually, they are wrong. And that's why.
Why are bad reviews needed too?
Remember that people are more willing to write negatively. If everything is fine and there are no problems, then most likely no one will go to write you thanks. In the event of a malfunction, a person is likely to publish a claim.
The lack of negative reviews looks suspicious. Potential customers may decide that you write reviews yourself or buy them. Negative reviews will prove the reality of positive opinions about your company.
You can't please everyone around you – there will always be those who don't like you.
Negative comments point you to existing problems. The speed of delivery, the quality of the work of employees, and the characteristics of the product or service itself. If a large amount of negativity pours into one problem, then it seriously interferes with your work and needs to be addressed.
Learn more: Increase your traffic top 5 architecture tips
Types of negative reviews and comments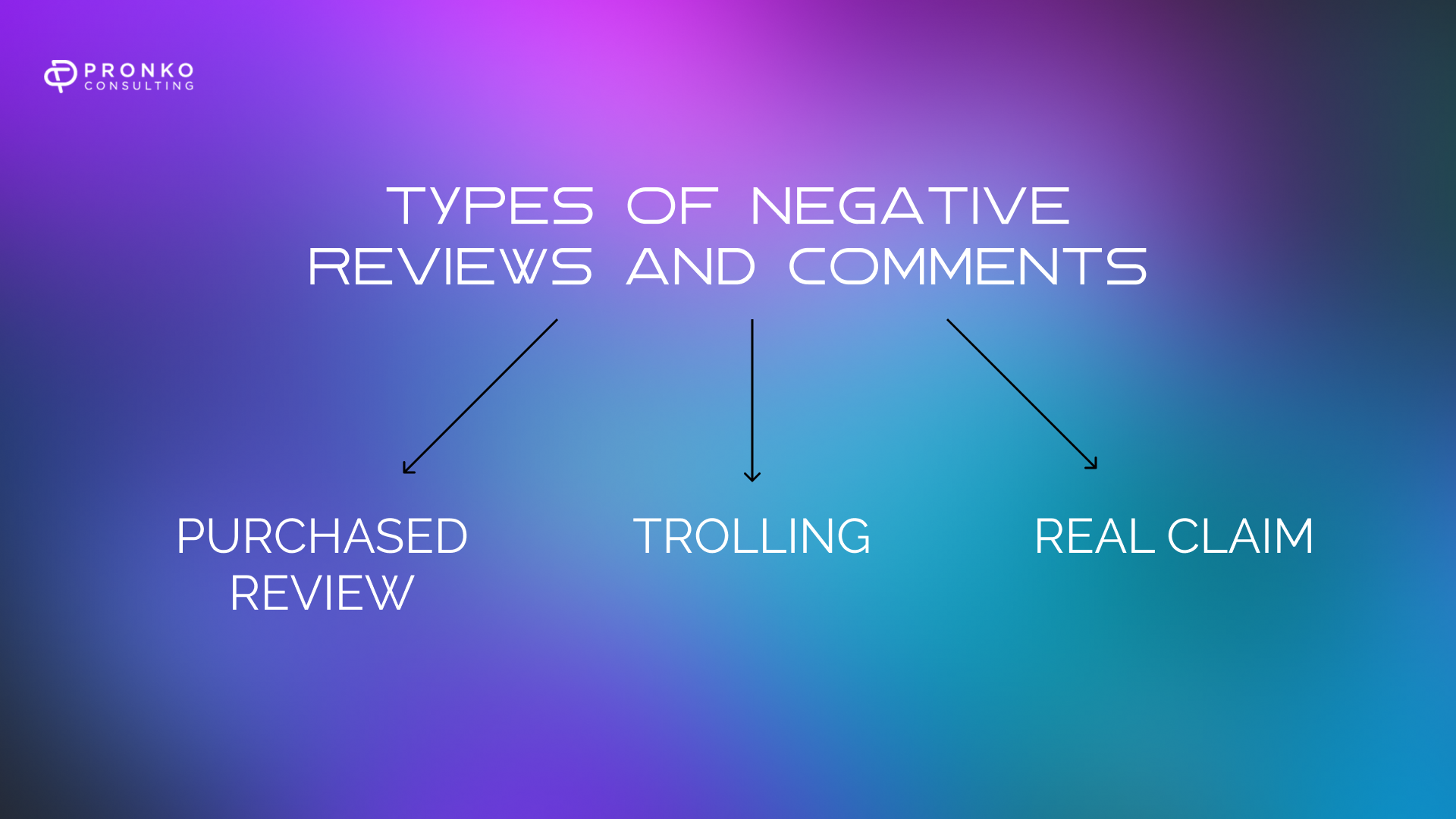 Not all bad comments online are the same. Three main groups are:
Purchased review. The intrigues of competitors who are trying to "sink" you in such dishonest ways. Such reviews are easy to calculate — you just need to ask for the order number, and contact details for communication. Most likely, you will never get an answer.
Most people know how to distinguish purchased reviews from real ones. But if fakes appear regularly, they need to be fought. In any case, they should not be ignored.
Trolling. An attempt to provoke you or outright slander. Such people may never use your services at all. Their goal is to get attention and get you to react.
By entering into a discussion with a "troll" you are unlikely to achieve anything. In some cases, you can laugh it off in a friendly way — it is unlikely that such a reaction is expected from you.
Real claim. Real feedback is often very detailed, detailed. Customers indicate their name and surname, order number, and contact information for communication.
Perhaps you will not find here the technical details of the problem, and they will have to be clarified in the course of the dialogue. But you will surely notice a storm of emotions experienced by an offended buyer.
The last type of feedback needs to be handled most carefully. After all, they have the greatest impact on your reputation.
Rules for dealing with negative reviews
1. You need to work with reviews
The best response is none. It might be good advice for your child, but not for your brand. Any kind of negative feedback needs to be processed.
If you get a lot of black PR from competitors, block it with positive and neutral reviews. Give customers an incentive to leave a real opinion about the product: a gift or a discount for a review, a simple reminder request to write your opinion if you liked everything. Remove fake negative from the first lines of TOP search engines.
Learn more: Improve your marketing strategy with Google Analytics Enhances Ecommerce
2. Try not to respond with emotion
Don't respond with negativity to negativity. Keep in mind that your response will be read by other clients and based on your comments they will decide whether or not to contact you. Clients subconsciously take the side of the person who communicates correctly, adequately, and dispassionately.
Have you noticed that well—known brands respond most often from their side? Try to write from your perspective. Not "You are wrong", but "I disagree with you".
3. Answer on time
If there is a phone number, it is worth contacting the client as soon as possible and listening to him. Then there is a chance to neutralize the negative at this stage. Emotional people tend to exaggerate the problem. Let the client speak out, calm the indignation, and then move on to the essence of the problem and its solution.
4. Do not use template answers and copy—paste
This is annoying. The company should have standards for communicating with customers, but lazy replies of the same type will make the negative pile up like a snowball. And then you will not be trusted.
If the firm does not have a dedicated complaints department, assign these responsibilities to an administrator or senior manager. In the end, answer the negativity yourself. The client must see that a live person is communicating with him, ready to solve his problem.
5. Be polite
Don't be rude and don't try to brush it off. Thanks for the feedback. "Thanks for your feedback! Your opinion is very important to us…"
Address the client by the name he provided. If it's not listed in the recall, check the order information for the name.
6. Reread your answer several times
Try to avoid grammatical errors. Often managers make mistakes even in names. Stupid typos and mistakes will only further piss off the customer.
7. Apologize
The standard phrase "We apologize for the inconvenience caused" should sound. Even if the client is frankly overdoing it or the company is not at all to blame.
Sometimes managers begin to communicate as if the client owes them something. Try not to let this happen so that a new negative does not appear.
It is best to answer on behalf of the head of the company. Or at least indicate the position of the person who is responsible. Be sure to show that he is related to the company.
8. Admit your mistake
Bad reviews don't just happen out of nowhere. There is no need to deny that what the client described did not happen, insist on being right and try to convince. Report that you were wrong and sort out the situation.
9. Report the resolution of the complaint
When the claim is closed, be sure to notify the client personally and unsubscribe from the resource where the review was left. A person himself can write that the problem is solved, and he withdraws the claim. Then other clients will be able to see that your company is working with objections. In the eyes of people, you will be a serious company.
You can take on reputation management – create a special quality department, hire one employee, or entrust the task to a full-time marketer. A good alternative would be to entrust this work to a specialized agency that has the necessary resources and experience for this.